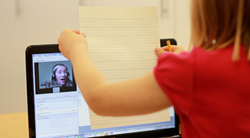 "This comprehensive and cohesive approach that WebWise Education provides will allow our schools to provide high-quality, well-targeted services, which will create continuity of care for our students."
Los Angeles, CA (PRWEB) September 23, 2014
WebWise Education, LLC, a premier provider of online tutoring and therapy services and Nassau BOCES, a provider of the highest quality educational and support services to all Nassau County school districts, have entered into a strategic partnership to offer a variety of online learning services, including special education and therapy related services, Response to Intervention programs, general education tutoring, college test prep courses and vocational education support.
WebWise Education and Nassau BOCES will now be able to reach more students of varying abilities, by bringing cutting-edge online services and therapies to those students who would have previously gone unserviced. By eliminating geographical barriers, WebWise Education can now expand their scope and will be able to successfully use virtual learning on an even larger scale.
By working with WebWise Education, Nassau BOCES will be able to expand their academic services to be inclusive for all students' ability levels. This will allow them to further their empowerment of students to achieve their maximum potential in both traditional and non-traditional learning environments. Nassau BOCES will utilize WebWise Education's exceptional educational experts so they continue to be the go-to educational resource in the Nassau County school districts.
"WebWise Education is proud to partner with Nassau BOCES because it gives us the opportunity to showcase the successes of our virtual programs, which are uniquely tailored to every school and student we partner with, to Nassau BOCES' broader audience," announced Maggie Garretson, EVP of WebWise Education. "We will be able to work with their extensive network of students to support and assist with Nassau BOCES' continued implementation of state-of-the-art services."
"Through this new partnership, Nassau BOCES's students will have access to a variety of quality online academic support and tutoring services that will be available to everyone," stated Elisa Barilla, Coordinator for the Center for Online Learning at Nassau BOCES. "This comprehensive and cohesive approach that WebWise Education provides will allow our schools to provide high-quality, well-targeted services, which will create continuity of care for our students."
About WebWise Education
WebWise Education, along with its subsidiaries, WebWise Tutors and WebWise Therapy Services, combines passionate and experienced educators and therapists with synchronous online learning to create an environment that helps students succeed.
For more information, visit http://www.webwiseeducation.com or contact:
WebWise Education
Bill Apablasa
(818) 216-8948
Bill(dot)apablasa(at)webwiseeducation(dot)com
About Nassau BOCES
Nassau BOCES, a partner with all Nassau County school districts, provides leadership and the highest quality educational and support services. They are committed to ensuring a successful, challenging, caring and safe environment that enables students of all ages and abilities to achieve their maximum potential.
For more information, visit: http://www.nassauboces.org/col or contact:
Nassau BOCES Center for Online Learning
Elisa A. Barilla
(516) 608-6638
ebarilla(at)mail(dot)nasboces(dot.org