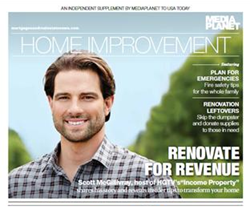 New York, NY (PRWEB) September 19, 2014
The print component of Home Improvement will be distributed within this weekend's edition of USA Today in the New York, Philadelphia, the District of Columbia, Chicago, Denver and Los Angeles markets, with a total circulation of approximately 460,000 copies and an estimated readership of 1.3 million. The digital component is being distributed nationally through a vast social media strategy and across a network of top news sites and partner outlets. To explore the digital version of the campaign, click here.
HGTV host and author Scott McGillivray is featured on the cover of both the print and digital editions. In Mediaplanet's exclusive interview with the icon, he shares his tips for smarter home renovations and warns readers of the dangers of investing without inspection. "There is so much more than meets the eye when it comes to properties," he explains. "There are always surprises lurking behind walls."
The campaign also emphasizes seasonal home safety with tips from National Safety Council CEO, Deborah A.P. Hersman. As winter approaches and families are spending more time indoors, she cautions, "About two-thirds of fire deaths occur in homes with no working smoke alarms." She goes on to suggest, "Every family should have an escape plan in the event of a fire."
This campaign was made possible with the support of the National Association of the Remodeling Industry, Habitat for Humanity, DIY Network's Alison Victoria, the National Safety Council, and many more.
About Mediaplanet
Mediaplanet is the leading independent publisher of content-marketing campaigns covering a variety of topics and industries. We turn consumer interest into action by providing readers with motivational editorial, pairing it with relevant advertisers, and distributing it within top newspapers and online platforms around the world.