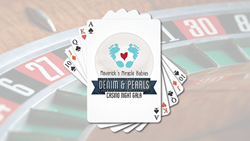 We need your help to make this fundraiser a success by becoming an Event Sponsor. Sponsorship opportunitiesare available for both businesses and individuals
Austin, Texas (PRWEB) September 22, 2014
Join us for a fun-filled evening as Maverick's Miracle Babies Foundation hosts the 1st Annual "Denim & Pearls Casino Night" Gala.
The event will include music, BBQ catered by Pok-E-Jo's, door prizes, professional casino games, a raffle, and live and silent auctions. Beer and wine will also be available. The gala will feature a special buy-in for a Texas Hold'em tournament and the winners will receive prizes.
The funds from this event will be used to help provide procreation grants to Texas couples facing infertility issues.
Please click here to buy tickets or donate to the event: http://mavericksmiraclebabies.org/?page_id=7677
Maverick's Miracle Babies Foundation (MMBF) http://www.mmbabies.org was founded in January 2013 in Austin, TX. MMBF grants provide financial assistance to Texas couples facing the insurmountable costs associated with fertility treatments.
The main objective of MMBF is to provide couples facing infertility with the funds to begin the process of conceiving a child with medical assistance, specifically IUI and IVF. The hope is that providing couples with this funding will enable them to spend less time worrying about the financial burden and more time focusing on growing their family. MMBF hopes to maintain a perpetual fund that can continuously endow infertility treatments for these underprivileged couples.
Did you know that one in six couples face infertility? The fertility dilemma is a very common, yet largely unknown problem. Couples facing infertility have few options other than to pursue procedures in which the average cost of one cycle of treatment is $15,000. Typically, these expensive treatment options and procedures are not covered by insurance, making them too costly for many couples to consider.
MMBF was created after founders Tim and Kelsey Edwards faced difficulties conceiving. They experienced uncertainty as they entered the world of fertility procedures, and met other couples struggling with similar issues. In the end, Tim and Kelsey were able to receive the necessary treatments and were blessed with a beautiful baby boy, Maverick. Other couples are not as fortunate and their stories motivated Tim and Kelsey to start the foundation. More information available at mmbabies.org.
Event Location: Brodie Homestead | 5211 Brodie Lane | Sunset Valley, Texas 78745
Event Time: 6:30pm - 11:00pm CST