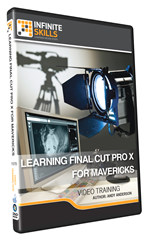 Learn Final Cut Pro X for Mavericks at your own speed
(PRWEB) September 19, 2014
Software training firm Infinite Skills Inc. this week released its "Learning Final Cut Pro X For Mavericks Tutorial," a fundamentals course teaching the basic features and functionality of this industry-leading video editing software.
Final Cut Pro X, produced by Apple Inc., is video editing software used by studios around the globe to produce major motion pictures. Apple continues to develop the program, improving its already rich array of features with each subsequent release.
Infinite Skills' "Learning Final Cut Pro X For Mavericks Tutorial" covers new features and changes to the interface in the latest version, guiding users through a hands-on experience of producing a mock television commercial, providing a solid basis in the program's functionality through real-world application.
Learning Final Cut Pro X For Mavericks Video Tutorial - Streaming
Course author Andy Anderson is a veteran trainer at Infinite Skills with more than twenty years of experience in working with creative programs such as Final Cut Pro and the the Adobe Creative Cloud line of software. He is a widely published photographer and a college professor, training and teaching others in using an array of creative programs.
Following an introduction looking at the Final Cut Pro interface, preferences, and shortcuts, Anderson begins by showing students how to import media, explaining how to create a library, import assets from various sources, and use the import options.
He then covers the basics of editing, demonstrating how to control the primary storyline, add clips to the time line, and perform a number of basic edits, before diving in to the example project, where students learn how to use Final Cut Pro X "on the job" by producing a sample commercial project.
Other key chapters cover applying effects to individual clips, including transformations such as blending modes, special effects, and other features, as well as lessons on preparing the final version of the project.
"My philosophy of training goes something like this, left and right brain," Anderson says.
"We will stop every once in a while when we get into the logic of things to give you time to be creative. That gives you the combination of left and right brain skills to get you to the next level, and that's exactly what we want to do."
Free demo videos and a full list of course contents can be found on the "Learning Final Cut Pro X For Mavericks Tutorial" training page on the company website:
http://www.infiniteskills.com/training/learning-final-cut-pro-x-for-mavericks.html
Infinite Skills offers its Learning Final Cut Pro X For Mavericks in DVD format or as a direct download from the company website at a retail price of $49.95. The course is also available as part of Infinite Skills' subscription service offered at a rate of $25.00 per month. All titles and formats are compatible with Mac and Windows operating systems. Shipping is available around the globe. Additionally, Infinite Skills tutorials are supported by project files which correspond to examples in the videos, allowing users to work alongside experienced instructors right on their computer or iPad.
About Infinite Skills Inc.
A leader in the field of software training, Infinite Skills designs its courses on a task-oriented model, teaching complex skills by providing hands-on examples and guiding users as they carry out essential functions. Infinite Skills offers a wide range of software titles available as DVDs, digital downloads, and in iPad editions. Infinite Skills now offers a subscription service, providing access to all its training content for a monthly fee, keeping with company's aim of delivering professional training to customers anywhere they want to learn.