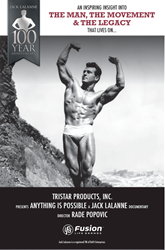 "Anything in life is possible if you make it happen," Jack Lalanne
New York, NY (PRWEB) September 22, 2014
Tristar Products, Inc. is celebrating the 100th Birthday Anniversary of American icon Jack LaLanne, best known as the 'Godfather of Fitness,' with the release of their documentary "ANYTHING IS POSSIBLE" premiering September 24th at the TriBeCa Film Center® in New York City.
The documentary gives an inspiring insight behind the man whose mission was to show the world the importance and benefits of fitness and nutrition. The name of the film is derived from one of LaLanne's favorite quotes, "Anything in life is possible, if you make it happen." With appearances from Clint Eastwood, Lou Ferrigno, Diana Nyad and celebrity trainers: Gunnar Peterson, Patrick Nilsson and Mandy Ingber, his inspiration and fortitude are evident today.
"Jack LaLanne has been an American inspiration and icon for decades. His philosophy and messages on life, fitness, food and health are as relevant today as they were when he was demonstrating these beliefs through his amazing feats of fitness. It was with this shared vision that Tristar Products Inc. partnered with Jack to enable Americans everywhere to embrace his nutritional practices through the launch of the original Jack LaLanne juicer—a top selling item for over 10 yrs and a true milestone in the wellness industry. As we look to the celebration of his 100th Anniversary, we are proud to be producing his official documentary –celebrating his life and legacy as a pioneer. He truly introduced the world to the longevity benefits of natural foods and physical fitness—a lesson we are still all learning," says Lucille DeHart, Chief Marketing Officer of Tristar Products Inc.
Prior to the release of the documentary, Tristar Products will be hosting a preview to friends, family and press in TriBeCa for the official launch of the documentary. "Jack LaLanne was a pioneer and way ahead of his time. His important story continues to be told through this production. A true inspiration," explains Tracy Paul, CEO of Tracy Paul & Company, Inc.
ABOUT TRISTAR PRODUCTS
Tristar Products Inc. is the recognized pioneer of taking innovative ideas and creating #1 brands worldwide. Dedication to high standards of quality manufacturing makes Tristar Products, Inc. an internationally respected infomercial market leader. With well established brands, proven international and domestic distribution channels, media power in over 100 countries and quality manufacturing that attracts celebrity endorsements, Tristar Products Inc. has exceeded over a billion dollars in sales. Tristar Products, Inc. is an Inc. 5000 company. http://www.tristarproductsinc.com
http://www.fusionlifebrands.com/jacklalanne100
ABOUT TRACY PAUL & COMPANY, INC.
Tracy Paul & Company (TP&Co) is a full service brand development agency. Specializing in Creative Marketing, Public Relations, Special Events, Content Creation and Documentary & Digital Production, TP&Co maintains a focus on developing brands within the Luxury, Lifestyle, Fashion, Design, Tech, Health & Wellness based sectors. TP&Co prides itself on having a global reach while maintaining a boutique environment. For over 17 years, TP&Co has been successfully building, launching and creating effective strategies for brands to increase equity and advance to the next position. http://www.tracypaul.com
PRESS CONTACT:
Tracy Paul
Tracy Paul & Company, Inc.
tracy(at)tracypaul(dot)com
212-741-5459