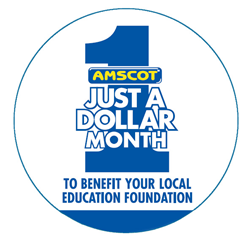 Every dollar adds up to be powerful crowd-sourcing for Florida students and classrooms.
(PRWEB) September 23, 2014
Amscot Financial, a leading provider of convenient, consumer-oriented financial services, recently announced results of its ninth annual "Just a Dollar" campaign, designed to raise funds for local education foundations in the 20 Florida counties where Amscot has branches. The 2014 campaign included Miami-Dade and Broward counties, where Amscot has recently opened new branches.
Throughout the month of August, Amscot Financial associates asked each customer if they would like to voluntarily contribute a dollar to their local education foundation. Amscot kept track of each contribution by county to ensure that it was donated directly to the education foundation serving the county in which the branch is located. Customer contributions in 2014 totalled $146,172 and with Amscot matching the first $10,000 total contributions were $156,172.
The nine year total surpassed the $1 million mark with $1,035,172 in total contributions via the Consortium of Florida Education Foundations (CFEF), a Gainesville-based membership organization for the state's local education foundations.
"To be able to surpass a million dollars, says a great deal about the generous nature of our customers and dedicated associates in each and every one of our branches," said Ian MacKechnie, founder and CEO of Amscot Financial. "We hope to continue our support in the years to come."
With access to a $1 for $1 match through the State of Florida School District Education Foundation Matching Grant Program administered by the CFEF, customer and corporate contributions can add up to even more when used for locally driven initiatives in eligible areas including programs to support literacy, low performing students, increasing graduation rates, teaching quality, career/technical education and STEM education.
Founded in 1989, Amscot Financial employs more than 2,000 associates who work at the company's retail branches and at the company's corporate headquarters in Tampa.
Amscot Financial's service centers are open seven days a week and are typically open Mondays through Saturdays from 7 a.m. to 9 p.m. Sunday hours are typically from 10 a.m. to 8 p.m. Select Amscot locations are open 24 hours a day. The company currently operates retail locations in Hillsborough, Pinellas, Pasco, Hernando, Polk, Hardee, Highlands, Manatee, Sarasota, Orange, Osceola, Seminole, Lake, Volusia, Brevard, Marion, Miami-Dade and Broward counties.