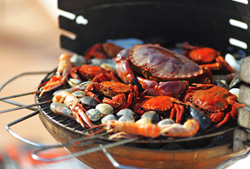 Seafood Festival in Richmond Hill
Savannah, Georgia (PRWEB) September 19, 2014
The 16th Annual Great Ogeechee Seafood Festival is right around the corner and as the cozy seaside town of Richmond Hill prepares the final touches, folks living in the surrounding friendly Savannah neighborhoods are getting ready to enjoy outstanding live entertainment, the freshest seafood the coast has to offer, arts and crafts, an old-fashioned carnival with thrilling rides, 5K Crab Crawl run, dance performances and rock bands. Come hungry. Shrimp, oysters, crabs and crawfish are just a few of the specialties at the festival.
After its humble start in 1985 at the Kilkenny Fisherman's Co-op, the Savannah seafood festival was originally run by only a few volunteers and primarily served as a place to network small businesses and eat some of the best seafood on the coast. As beautiful Lowcountry real estate developments began popping up, more town folk became apart of this communal event and by 1998 Richmond-Hill County decided to move it to the newly built, JF Gregory Park. Sixteen years later and still at JF Gregory Park, The Great Ogeechee Seafood Festival hosts approximately 35,000 people and continues to grow.
Breathtaking waterfront property in Georgia, like those available in The Landings, Ford Plantation, Waterways Township make it easy to see how The Ogeechee Seafood Festival has grown as a popular Savannah festival catering to the local community who love Southern charm and fresh seafood. Over the years, a lot has changed, but signature favorites like hot Kettle Corn and homemade Peach Cobbler, have remained the same. During the day, families enjoy live performances by local schools and dance studios. At night the the stage lights up with hot performances by award winning bands and vocalists.
Here's a list of the live entertainment performances at this year's 16th Annual Great Ogeechee Seafood Festival in Savannah:
Friday - October 17, 2014
9:00-11:00pm Swingin' Medallions
Saturday - October 18, 2014
10:30-11:30am Richmond-Hill Middle School Band
11:30am-noon Off Broadway… Your Dance Destination
12:00-12:30pm The Studio Dancers
12:30-1:30pm Kelly & Co. Studios
1:30-2:00pm Off Broadway… Your Dance Destination
2:00-3:00pm Dancing Unlimited
3:00-4:00pm Live Moves Dance Studio
4:30-5:45pm The Andrew Gill Band
6:00-7:00pm Georgia Fire Band
7:20-7:45pm Jake Miller
9:00-11:00pm Blues Traveler Band - Grammy Award Winner
Events like The Ogeechee Seafood Festival are family orientated and a great way to see what a town like Richmond Hill has in store for the new homeowner. Friendly Savannah neighborhoods that feature golf, boating and urban living are the perfect choice for families of all ages in Savannah. Waterfront property in Georgia is surprisingly affordable and makes for a lifetime of memories with family and friends, old and new. Here's a few ideas of places to look:
The Landings, located on Skidaway Island has been a favorite Savannah neighborhood for over 40 years, with easy ocean access, two deepwater marinas, six championship golf courses, 4 golf clubhouses, 34 tennis courts with an academy, and almost 500 acres to experience it on. Home prices spread across a large range beginning in the 200k's to over estates well over 2 million.
Perhaps folks prefer to be among the tranquil marshes. At the Waterways Township over 3 miles of twisting waterways meander through the friendly Savannah neighborhood, appeasing to a more relaxed life on the water like kayaking or canoeing. This new Savannah gated community plans to offer all the key amenities one would want in a new home such as a golf course, fitness center, pools, and biking and hiking trails. Homes range from $200 to $500k.
The Ford Plantation is a great location for history buffs and nature enthusiast. The main house was once Henry Ford's winter estate and the historic Oyster House overlooks Lake Clara and offers tours of throughout. This elegant 1,800 acre private community has a full service equestrian center, 18-hole championship golf course designed by Pete Dye, a fitness center, an outdoor heated pool and deepwater marina. Homes begin around $1 million.
There are many more Lowcountry real estate developments in the Richmond Hill and Savannah area to explore for homes.
About Real Estate Scorecard:
Real Estate Scorecard writes unbiased real estate reviews providing in-depth information about popular gated communities in Florida, Georgia, North Carolina, South Carolina and Tennessee, all in an effort to help people discover where to retire in the Southeast.
Website: http://realestatescorecard.com