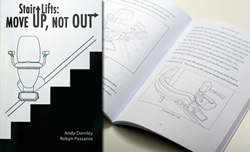 Technology has allowed the advancement of mobility in the home.
Syracuse, NY (PRWEB) September 23, 2014
Published by Nationwide Lifts, the book is designed to inspire those suffering with mobility issues to take charge of their mobility in a new way, using equipment that is affordable, easy to install and positively impactful. Stair lifts are that equipment and can bring mobility and freedom back into a home.
"Being in the elevator business, I've seen so many people struggle with what to do, how to help themselves or a loved one with mobility issues," said Andy Darnley, co-founder and president of Nationwide Lifts. "People often think they need to move out of the home they love and into a place with no stairs. But that often isn't the most empowering option – and certainly not the most affordable one. We wanted to offer a resource for people to learn more about stair lifts and how such a simple piece of equipment can really change people's lives."
Darnley co-authored the book with Robyn Passante, a freelance journalist who previously wrote two books for the wedding industry.
"Move Up, Not Out!" gives a thorough and easy-to-understand look at the benefits of stair lifts and the various types, options and specifications available. The book covers everything from stair lift models to installation details, but it's the personal anecdotes and motivational asides that will affect readers most.
"It's not a brochure for a stair lift, though it gives you all the details you need to know about them," Darnley said. "This book is so much more – it's an entertaining, informative and uplifting read that describes how nobody's life should be hampered by mobility issues."
Nationwide Lifts is a residential elevator and stair lift company known for having the industry's best warranty, 24/7 phone support and a network of 15 offices across the United States. To receive a free copy of "Move Up, Not Out!," contact Nationwide Lifts at 1-888-323-8755
Press release services by Keyword Performance, LLC.