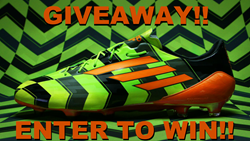 I got really excited about the World Cup 2014. I've always been a big soccer enthusiast. – Jonathan Goodman
Jersey City, NJ (PRWEB) September 19, 2014
Halyard Consulting President, Jonathan Goodman, has launched a YouTube Channel called All Your Living Needs, focused on the sport of soccer and the art of game predictions. To celebrate the launch of the channel Jonathan, who goes by the nickname Johno in the videos, is running a giveaway contest where one lucky subscriber will win a pair of cleats.
All Your Living Needs celebrates the love of soccer felt around the world. Goodman has always been a fan of the game, even going to see the World Cup in 1994. He had season tickets to the New York Red Bulls back when they were still the MetroStars. He wanted to find a new way to build his own personal channel on YouTube separate from Halyard Consulting. This led to the idea for All Your Living Needs.
Goodman began making predictions for the 2014 World Cup as Johno, the host of the channel. He quickly gained a large audience. He decided he needed his own channel as opposed to the personal one he was using. He chose the name because it represented the love people have for the sport. Midway through the World Cup, he moved all of the videos to this new channel.
Goodman produces 10 videos each week focused on predictions for the Barclays English Premier League. His videos are now watched tens of thousands of times each month and the channel has hundreds of subscribers. To continue to grow his following and to reward those who are already faithful subscribers, Goodman has created this contest giveaway.
The contest is simple with just a few rules. Anyone over age 18 can enter. Just subscribe to All Your Living Needs and comment in the giveaway video which brand and size cleats you want if you win. No address is needed at the time of entry. The contest started out for U.S. residents only but is now open to international followers as well as U.S. citizens. To get bonus entries and a better chance of winning, subscribers can also follow the channel on Twitter and Facebook.
The contest runs until Saturday October 4, 2014. The winner must select one pair of cleats under $250 and provide shipping information for receipt. All entrants must be age 18 or older.
About All Your Living Needs
All Your Living Needs is a YouTube Channel for people who live and breathe soccer. As the host of the channel, Johno makes predictions each week on how teams will do in the English Premier League. In just a short time, he has gained hundreds of followers with several thousands of views each month.
About Halyard Consulting
Halyard is a premiere Internet marketing agency, located in northern New Jersey. The company was established in 2007 with the core philosophy of providing small businesses with services often utilized by Fortune 500 companies.
About Jonathan Goodman
Jonathan Goodman is the founder of Halyard Consulting, an Internet marketing and public relations firm, located in New Jersey. Jonathan is the author of The World of Internet Marketing book series, written for small business owners, managers and others interested in cutting-edge marketing techniques. The first book in the series enables readers to take online marketing fundamentals and broaden revenue streams for their companies. Additional books to be released will include critical information about YouTube marketing, Facebook advertising, and cloud computing. Jonathan holds an MBA from Fairleigh Dickinson University, an MS from the College of New Rochelle and a BFA degree from Ringling College of Art and Design.
Contacts:
Jonathan Goodman, President
Halyard Consulting
Phone: (800) 641-9157
Email: jgoodman(at)halyardconsulting(dot)com