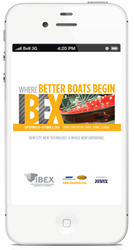 Columbia, MD (PRWEB) September 23, 2014
a2z, Inc is pleased to announce that IBEX will offer the ChirpE mobile app solution, for the third year in a row, to attendees of the International BoatBuilders' Exhibition and Conference (IBEX), the largest technical trade event for the marine industry in North America. This event will take place September 30 - October 2, 2014 in Tampa, FL.
The a2z-powered ChirpE mobile event app offers easy access to the complete conference schedule, interactive floor plan, expo announcements, and social media posts – all in real-time and synced from the event website – providing for an enhanced experience.
Attendees can stay afloat while attending IBEX with the many planning tools offered in the a2z mobile solution, which efficiently maximizes their time at the trade event. App users can build their Personalized Planner by tagging favorite exhibitors they would like to meet at the Expo and adding sessions they want to attend. The My Notes app feature allows attendees to take notes during their seminars or expo meetings– all of which are accessible later within the mobile app.
In addition, while on the Expo floor, attendees will receive app notifications via Bluetooth from the mobile app sponsor, Volvo Benta. Each notification will contain the sponsor's company profile and booth locations where attendees can view their featured products. The IBEX mobile app is available for iPhone/iPad and Android phones as well as all internet-enabled smart phones.
IBEX Tampa 2014 is a platform for the business of boating and will present the most recent advancements in marine technology. This three day event attracts professionals from all segments of the industry, including boat builders & designers, wholesalers & distributors, dealers, manufacturers, and retailers. This is a great opportunity for attendees to interact with the entire marine industry and preview hundreds of new products and see cutting-edge technology. In addition, IBEX will offer 56 technical seminars hosted by industry experts, live demonstrations, free workshops, and numerous networking events.
For more information about the conference, please visit http://www.ibexshow.com/
About a2z
a2z, Inc. provides powerful web-based event management tools that grow your show by increasing and accelerating booth sales, helping boost revenue, and enhancing engagement and value for everyone. Our clients benefit from increased connectivity with their audience via an improved website for their attendees and exhibitors and both web-based and native mobile app solutions. To fulfill our goal of developing quality solutions that help save money and meet your needs, a2z offers three platforms as one integrated solution: Expo & Conference Management, Networking & Lead Management, and ChirpE Mobile- which includes our web-based and native mobile apps for smart phone and tablet devices.
About IBEX
IBEX is owned and produced by Professional BoatBuilder magazine and National Marine Manufacturers Association (NMMA) and is the largest technical trade event for the marine industry in North America. For boat builders, designers, repairers, and surveyors, boatyard/marina operators, marine dealers, retailers, aftermarket suppliers and buyers, wholesalers and distributors - IBEX is the single source for the latest boatbuilding technologies, tools, and materials.