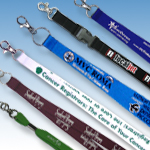 Lanyards can be a security, seniority, or purely sales-driven accessory.
Chicago, IL (PRWEB) October 07, 2014
Security is getting branded, according to PinMart. In recent quarters, PinMart has seen both an increase in overall sales of corporate branding as well as an increase in a particular sector of corporate branding, that being custom lanyards. This trend, PinMart surveys and studies show, is due to corporations big and small adopting increased safety practices. These new regulations have led to the need for things like neck lanyards in order to keep security badges and company ID handy at all times when entering and exiting areas and distinguishing employees from guests.
Neck lanyards were traditionally more commonly found on college campuses and at sporting events, but as security procedures increased and adapted after 9/11, lanyards became one of a few options available to businesses for carrying around security identification. This method, previously only found in huge Fortune 500 companies, has trickled down to both mid-level and small businesses, to provide identification and also as a secondary branding tool. As one PinMart sales rep stated: "Neck lanyards can be a security, seniority, or purely sales-driven accessory". And this 'accessory' has seen a 35% growth in recent analysis.
PinMart has seen professional organizations embrace the neck lanyard firsthand, and custom lanyards in particular have seen a sharp increase in sales. The pieces are being used both internally and as promotional items, which means their reach is continuing to extend further. "And to bring it full circle," notes PinMart sales rep, "a lot of department stores purchase both pins and custom lanyards, and then put the pins on the lanyards. So they're not replacing pins, but instead they're an accessory to them."
About PinMart: PinMart, Inc. is a privately held company located in Mount Prospect Illinois, a suburb of Chicago, specializing in the design and manufacture of stock and custom designed emblems, custom lanyards, employee recognition and awareness items. PinMart sells stock products via its online store and offers custom design and manufacturing. PinMart has taken advantage of its well positioned internet presence and now boasts a client list that includes over 300 of the Fortune 500 companies.