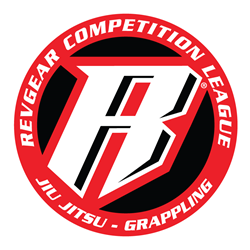 "I compete quite often in the Midwest and I can honestly say that RWO - Denver was one of the most professional and efficiently ran tournaments that I have ever had the pleasure of participating in. - Logan Cook, RCL Competitor
Van Nuys, CA (PRWEB) September 19, 2014
The rapidly growing Revgear Competition League, a Brazilian Jiu-Jitsu and Grappling Tournament series, will host it's first ever event in Kansas City on September 27th, 2014. The event will take place at Discovery Middle School with official weigh-ins taking place the day before and morning of the event at the venue located at 800 Midjay Drive, Liberty, MO 64068. Revgear World Open - Kansas City will also be the debut of Revgear Competition League's Unlimited Divisions offering competitors who wish to compete in multiple divisions throughout the tournament to do so for one flat fee of $99.00. Revgear World Open - Kansas City will also feature 3 Superfights between local and national competitors including Travis Conley vs. Anthony Carlson, Joe Wilk vs. Jason Bircher & Brian Carlsen vs. Nick Sanders.
Revgear Competition League was developed by leading Martial Arts manufacturer Revgear whose 18-year history in the sport has made them one of the most trusted names in the Martial Arts industry. Revgear's Founder Paul Reavlin said; "I am very excited to come to Kansas City for the Revgear World Open. This is a unique chance to get to meet our customers face to face and I am looking forward to meeting everyone. We've got some amazing Superfights planned and it will be a great time."
The Revgear Competition League brings you a unique grappling tournament structure with double-elimination matches for all White Belt, Blue Belt and Kids divisions of 5 or more competitors, guaranteeing a minimum of 2 competition matches as well as pre-scheduled brackets, day before weigh-ins and more.
The grappling community has been buzzing since RCL's inaugural event, the Revgear World Open - Denver on June 28th, 2014. The event not only featured Superfight bouts which brought out a former UFC and Strikeforce MMA superstar and some elite female grapplers but also many local competitors and talented youth grapplers. Revgear World Open - Denver was a great success and left those who attended the inaugural event with a positive lasting impression.
"I compete quite often in the Midwest and I can honestly say that RWO - Denver was one of the most professional and efficiently ran tournaments that I have ever had the pleasure of participating in. It was well organized. The officials were very knowledgeable, courteous and professional. All of the competitors that I had the honor of competing against were humble and respectful in both victory and defeat. All in all it was a fantastic tournament and I can't wait to compete at more Revgear Competition League events in the future!" said Revgear World Open - Denver competitor Logan Cook who traveled from Indianapolis, Indiana to compete.
Revgear Competition League events and Revgear World Open - Kansas City is a pre-registration event and pre-registration is the only way to guarantee a shot at being atop the winners podium. Medals and Championship Belts will be awarded for various division competitors. Pre-Registration pricing through September 21st is as follows One Division $69, Two Divisions $79, Unlimited Divisions $99 and can be done by visiting http://www.RevgearLeague.com. Early Bird Registration saves both time and money.
"I couldn't be more excited about the response we've had from competitors wanting to participate at Revgear World Open - Kansas City! It's going to be an amazing event and amazing experience for competitors and spectators alike," said Revgear National Events Director Chris Stolzman.
Additional event information and preliminary schedule is as follows:
Friday Weigh-In's at venue from 5:00 PM - 7:00 PM as well as Day of Weigh-In's from 8:00 AM - 9:00 AM
Revgear World Open - Kansas City Tournament Schedule:
9:00 AM - Rules and Coaches Meeting
9:15 AM - Kids No Gi followed by Kids Gi
10:15 AM - Adult Women's No Gi followed by Women's Gi
11:15 AM - Adult Men's No Gi followed by Men's Gi
***
About Revgear Competition League
RSD Events, LLC is the parent company and sanctioning body for the Revgear Competition League ("RCL") and it's subsequent Brazilian Jiu-Jitsu and Grappling tournament events taking place throughout major markets in the United States. RSD Events is also the host organization for the Revgear University trade show event and convention for the Martial Arts industry.
Website: http://www.revgearleague.com.
Facebook: http://www.facebook.com/RevgearLeague
Twitter: http://www.twitter.com/RevgearLeague
Instagram: http://www.instagram.com/RevgearLeague
Media Contact:
Contact: Revgear Competition League
Email: Info[at]RevgearLeague.com