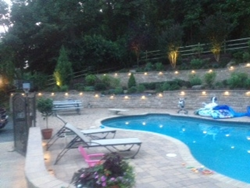 North East, Maryland (PRWEB) September 23, 2014
For two decades, Scott Shorrow of Landscape Concepts Inc. has specialized in landscape transformations enhancing the outdoor beauty of homes and businesses throughout Frederick, Maryland.
"Hardscaping has truly become an artform," says Shorrow. "It's so much more than just laying brick and pavers. The entire process from specification to design takes a real artistic touch to get it right, with a look and feel that promotes livability, curb appeal and even better value in a competitive sales market."
As for lighting, that was another matter entirely. "I dreaded lighting projects," explains Shorrow. "The wiring was bulky. The line voltage was difficult to anticipate and it always seemed like the first light was brighter than the fifth and all the other ensuing bulbs. Plus, the time and effort involved just wasn't worth the return."
That was until Shorrow learned about i-lighting and the company's extensive line of exterior lighting products using the company's proprietary "LED Lighting Simplified" connection technology. As a result, he found that installations utilizing i-lighting kits take nearly half the time of traditional outdoor lighting systems, since users need to do little more than plug the system together to create customized deck, rail, stair, post, path, masonry and landscape solutions. Another benefit is that each LED installation only costs pennies a month to operate, which translates to customer energy savings and another valuable business selling point.
"I immediately realized this was the answer to my lighting problems," continues Shorrow. "It just seemed so easy to use. All you have to do is plug it together and install. There are no excessive set up times. The wiring is thinner and as a result easier to hide and the LED bulbs emit a warm, yellow glow. I was sold the moment I started playing with the individual kits."
Featuring Easy Plug™ connectors, each i-lighting Stair, Deck and Landscape Lighting kit can be installed separately or in conjunction through a series of connections that plug together using either end of the i-lighting extension cables. Furthermore, each i-lighting system includes a lifetime warranty for its LED bulbs that use approximately 80 percent less energy than incandescent bulbs and are rated for 12-plus years of operation if used 24-hours-a-day/seven-days-a-week.
Most recently, the company also expanded its product line with the addition of iluma Under Cabinet and Rail Lighting. Each can be used both indoors and outdoors as well as operated independently or with any existing i-lighting Deck, Stair, Landscape Lighting Kit. Other i-lighting system benefits include a:

Photocell technology that senses ambient light and automatically turns lights on and off for both safety and security, while adding convenience and reliability
Lighting design that does not create heat and as a result is safer for pets and children, while attracting less insects
"Over the past year, I've used i-lighting products in more than 50 jobs, and I haven't had a single challenge," adds Shorrow. "I now show the lighting on the first day and customers almost immediately ask me to include it in their projects. It's such an easy upsell and it's less expensive than the current low voltage lighting products in the marketplace."
In one case, a previous customer was so impressed with i-lighting that he instructed Shorrow to replace the home's existing landscape and masonry lighting with a complete system consisting of nearly 250 i-lighting masonry, path and uplights. "Lighting installations are now not only a profitable, but pleasurable to perform," adds Shorrow. "In addition, i-lighting couldn't be a better partner. They answer questions immediately and in many cases will even put together custom solutions for overnight delivery."
For more information on i-lighting's Deck, Stair and Landscape Systems please visit http://www.i-lightingonline.com or call 888-305-4232.
# # # #