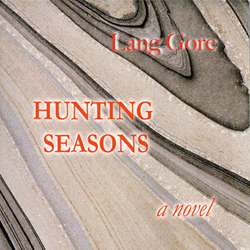 a beautifully written and haunting tale of doomed love"
Evergreen, Colorado (PRWEB) September 29, 2014
Audiobook producer and publisher, Brook Forest Voices, has announced the completion and September release of "Hunting Seasons" by Lang Gore, narrated by Ken Osbourn.
Tucson, Arizona author, Lang Gore, weaves an intricate tale of two families: Candace's, affluent and socially well placed; and Leland's, a high spirited, free thinking working class family, "Hunting Seasons" is a tightening tale of doomed love between Leland and Candace. Lurid and lyrical; funny and fantastic, Lang Gore's cast of characters includes business barons, military mutineers, male molesters, mischief makers, woodworkers, wanton women, firefighters in the Pacific Cascades, subversive scholars, hapless hippies and hunters of jaguars with javelins in Argentina.
Narrator Ken Osbourn, with credits including Disney XD and Spike TV, lends his resonant compelling voice to the story while drawing the listener deeper into the haunting world of "Hunting Seasons."
"Hunting Season" is available from the Brook Forest Voices Audiobook Store and through your favorite online retailer.
About Brook Forest Voices: a complete audio production studio located just west of Denver in Evergreen, CO, specializing in audiobook narration, production and publishing. BFV is designed to help large and small publishers, as well as authors, with all their audio needs. Publishers and authors wanting to learn more can visit http://www.brookforestvoices.com or contact Jaime Andrade, BFV Business Manager at 303-670-4145.