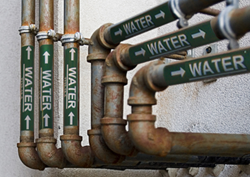 What color should the pipe label be? How big should the text be? When do you use a valve tag? Learn essentials of pipe marking at this free hosted event.
Portland, OR (PRWEB) September 22, 2014
Whether managing an apartment building, wastewater treatment plant or urgent care facility, it's critical to know where the water, nitrogen, hydrogen and other substances are flowing—for upgrades, maintenance, inspections and emergency response. Applying color-coded labels simplifies pipe and shut-off valve identification, especially when it needs to be done in a hurry. If pipes are mislabeled for either direction or contents, results could be disastrous. Graphic Products is simplifying the process by hosting a free webinar, covering the basics of pipe marking.
Free webinar: Pipe Marking 101
Learn how to implement or update a pipe marking system
Wednesday, September 24th, 2014
1:00-1:30 p.m. Eastern Daylight Time
Register Now: https://www3.gotomeeting.com/register/316851726
Those unable to attend the webinar should still register; after the event, Graphic Products will send out a link to the on-demand version.
Who should attend?
This webinar provides valuable information for anyone involved with facility management, HVAC, visual communication, compliance and safety.
What will it cover?
What color should the pipe label be? How big should the text be? When should a valve tag be used? Learn essentials of pipe marking such as color coding, dimensions of a pipe marking label, and where labels should be placed on a pipe, as well as differing standards for different industries.
The webinar also delves into the ANSI/ASME A13.1 Scheme for Identification of Piping Systems. These standards cover a wide range of general industry applications, pretty much anything except underground pipelines and electrical conduits. It's the standard followed at the majority of industrial facilities throughout the US.
Presenter Jim Bocci, Project Manager for Graphic Products, will host a Q & A session at the end of the 30-minute event. Attendees will have the opportunity to ask questions specific to their pipe marking challenges.
Graphic Products is the international manufacturer and distributor of DuraLabel industrial-quality printers and labeling supplies for facility and site identification. DuraLabel provides solutions for OSHA and ANSI compliance and visual communications,with a full line of printers and more than 50 application-specific supply types for the toughest indoor and outdoor environments.
Register now: https://www3.gotomeeting.com/register/316851726