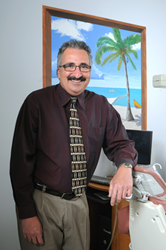 Bridgeport, CT (PRWEB) September 18, 2014
Greater Bridgeport, CT residents who struggle with gum recession can now find the solution they need to treat receding gums with periodontist, Dr. Richard Amato. Dr. Amato makes use of a dramatic new process known as the Chao Pinhole Surgical Technique™, which delivers beautiful new smiles to patients in far less time and with minimal discomfort or impact than that associated with standard gum grafts or other procedures.
Gum recession, along with tenderness, bleeding, or swelling in the gums, is a common symptom and side effect of periodontal disease. Severe recession reduces the amount of stabilization that teeth receive, putting patients at greater risk of losing teeth. Missing teeth are not simply of cosmetic concern, as the gaps left by lost teeth can negatively affect patients' abilities to eat or speak properly. The lack of root stimulation in the associated jaw bone also encourages the bone to erode and lose density and shape over time. Finding a way to treat receding gums is an important way of preventing these and other problems down the road and Dr. Amato makes it easier than ever to do so.
Until now, gum graft surgery has been the leading method of addressing moderate to severe gum recession. This process involves the cutting of healthy gum tissue from other parts of the oral cavity, such as the roof of the mouth, and suturing the sample to recessed locations. With Chao Pinhole Gum Rejuvenation™, however, there is no use of scalpels or stitches. Instead, Dr. Amato uses a combination of specialized tools to create a pinhole sized opening and essentially stretch existing gum tissue to cover exposed roots to acceptable levels. Also unlike graft surgeries, there is little swelling, pain, or bleeding and cosmetic appearance is restored immediately.
Patients affected by gum disease and associated gum tissue recession are encouraged to contact periodontist Dr. Richard Amato and schedule an initial consultation with him. He and his staff look forward to helping folks from Bridgeport, CT and the surrounding towns including Stratford, Trumbull, Fairfield, Shelton and Newtown learn about the innovative options available to treat receding gums.
About The Doctor
Dr. Richard Amato is a periodontist and dental implant specialist who provides personalized dental care using the most advanced technology for patients in Monroe, Connecticut. He has placed thousands of dental implants since 1989. Dr. Amato earned a DDS degree from Stony Brook University. He then completed a full time multi-year specialty residency and received his Certificate of Proficiency in Periodontics from Eastman Dental Center at the University of Rochester. He belongs to the one percent of dentists in the USA currently providing the first FDA-cleared laser procedure for gum disease treatment. Dr. Amato is the first and most experienced provider of LANAP® therapy in Fairfield County, Connecticut as well as the only Periodontist to provide the Pinhole Surgical technique in CT. To learn more about Dr. Amato and his dental services, visit his website at http://www.connecticutperiodontist.com and call (203) 712-0917.