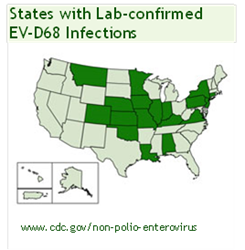 With the advent of superbugs, we seal up our schools, houses and business hoping to keep contaminants out, but we're actually keeping contaminates in.
Amarillo, TX, (PRWEB) September 23, 2014
Teaching kids to wash their hands and cover their mouths has been proven for decades to greatly reduce the spread of viruses.
But is hand sanitizing enough? We don't think so.
CNN reported on the EV-D68 outbreak that "It's worse in terms of scope of critically ill children who require intensive care. I would call it unprecedented. I've practiced for 30 years in pediatrics, and I've never seen anything quite like this," said Dr. Mary Anne Jackson, Children's Mercy Hospital in Kansas City division director for Infectious Diseases. "It could have taken off right after school started. Our students start back around August 17th, and I think it blew up at that point,"[i]
Basic hygiene practices are a critical first step, but we can't stop there as a nation. "There's no way to monitor what's coming into our schools. With the advent of superbugs, we seal up our schools, houses and business hoping to keep contaminants out, but we're actually keeping contaminates in." said Dr. Jeff Bennert Ph.D. CTN and co-founder of Air Oasis, "Superbugs are much more sophisticated, much harder to get rid of and it is going to take a more sophisticated technology to get rid of them."
Dr. Bennert continued saying that when a child uses a hand sanitizer, they often only sanitize the palms of their hands, without even addressing what's on the back of their hands, let alone their pencils, their desks, or what they're breathing in the air from the child sneezing next to them. Dr. Bennert believes constant passive sanitization of both air and surfaces is critical to the next generation of school buildings.
A September 2014 study at the University of Arizona (UA) found that even in an office with primarily isolated work spaces, when someone came to work sick, about 50% of the commonly touched surfaces in the office become infected with the virus by lunchtime (just 4 hours).[ii] Just imagine how quickly viruses spread in schools.
Dr. Nabarun Ghosh Ph.D. MAAAAI, West Texas A&M University, one of the foremost researches on air quality with extensive experience studying the Air Oasis technology said that his research shows an estimated 50% of the nation's schools have problems with IAQ.
"The neglect of IAQ can cause or contribute to short and long-term health problems including asthma, respiratory tract infection and disease, allergic reactions, headaches, nasal congestion, eye and skin irritations, coughing, sneezing, fatigue, dizziness and nausea. Not only does poor indoor air quality contribute to an unhealthy environment; it also hastens building deterioration. One study on an elementary school showed that if $8,140 had been spent over 22 years on preventative maintenance, $1.5 million in repairs could have been avoided by the use of a proper monitoring of aeroallergens and air purifying," Dr. Ghosh said.
Dr. Ghosh has concluded that "I know of no other technology available that produces the high level of pathogen abatement as Air Oasis,"
Air Oasis Company Information: Air Oasis LLP™ is a Texas based manufacturer, R&D facility, and distributor of their proprietary technologies since 2004. Their clients include MGM Resorts, Professional Football and Baseball teams, Safeway grocery stores, Gold's Gyms, Howard County General Hospital, and many more around the world in medical, residential, industrial, commercial, and transportation applications. Their technology improves the quality of life for thousands, cuts HVAC energy consumption, and reduces greenhouse gas emissions.
AHPCO Sanitizer Technology: In order to grow, transport, and store fresh produce on deep space missions, NASA developed PhotoCatalytic Oxidation (PCO) to efficiently remove the ethylene gas with minimal electricity and maintenance. Air Oasis has enhanced the original NASA PCO to a superior proprietary Advanced Hydrated PhotoCatalytic Oxidation (AHPCO®) nanotechnology.
Unlike an air purifier which circulates a portion of a room's indoor air and pushes it through a filter, Air Oasis's Air Sanitizers produce catalytic molecules that are blown throughout the room to sanitize both the air AND surfaces 24/7/365 while the room is in use. Almost a decade of University Studies and rigorous Field Trials has shown AO's technology dramatically reduces Bacteria, Viruses, Mold, Fungi, Allergens, and VOCs.
Important Facts:
1) Beyond safety, the EPA has linked IAQ to improved standardized test scores (up to 17%), better teacher performance and retention, increased speed of school tasks, and reduced absenteeism and sick days.[iii]
2) At least 1-2 harmful chemicals have been found in the air outside of almost every school in America[iv]
3) 9.3% of all children currently have asthma making them more susceptible to IAQ issues[v]
4) Children who attend schools located near high-traffic areas are 45% more likely to develop asthma [vi], [vii], [viii]
5) Children are 10 times more susceptible than adults to toxins[ix]
Contact Details:
David Milburn, (806) 373-7788
davidm (a) airoasis.com
3401 Airway Blvd., Amarillo, TX 79118
Sources Referenced:
[i] cnn.com/2014/09/06/health/respiratory-virus-midwest/
[ii] publichealth.arizona.edu/news/2013/germs-spread-fast-work-study-finds
[iii] epa.gov/iaq/schools/student_performance/evidence.html
[iv] usatoday30.usatoday.com/news/nation/environment/school-air-chemicals.htm
[v] cdc.gov/nchs/fastats/asthma.htm
[vi] labeez.org/articles/2010/04/23/inner-city-uncovered-increased-asthma-risks-linked-to-schools-in-high-traffic-areas/
[vii] switchboard.nrdc.org/blogs/dbailey/diesel_pollution_and_asthma_mo.html
[viii] ncbi.nlm.nih.gov/pmc/articles/PMC2920902/
[ix] usatoday30.usatoday.com/news/nation/environment/2008-12-21-youngkids_N.htm
###