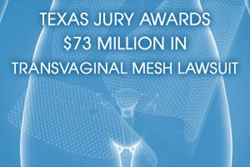 If you or a loved one has suffered injuries due to harmful medication, medical device, or a defective product, contact The Oliver Law Group P.C. toll-free at 1-800-873-5297 for your a FREE case review or visit www.legalactionnow.com
(PRWEB) September 22, 2014
A Texas state court jury has delivered Boston Scientific Corp. its first loss in a transvaginal mesh lawsuit, awarding $73 million to a woman who was injured by the company's Obtryx sling device, The Oliver Law Group reports. According to Reuters, the September 8th verdict was rendered after the jury deliberated for just a few hours, and found that Boston Scientific was grossly negligent for failing to warn patients and doctors about the risks associated with the Obtryx device. The 12-member jury ultimately awarded the Plaintiff $23 million in compensatory damages and $50 million in punitive damages. (Salazar v. Lopez, District Court for Dallas County, No. DC-12-14349)
(news.yahoo.com/boston-scientific-ordered-pay-73-million-over-mesh-203751753–finance.html, Reuters, September 9, 2014)
According to court documents, the plaintiff in the Texas case had been implanted with the Obtryx sling in 2011 to treat stress urinary incontinence, which she says caused her to suffer chronic pain and nerve damage. Her lawsuit had accused Boston Scientific of concealing knowledge of the serious risks associated with the product.
According to Reuters, Boston Scientific is facing more than 23,000 vaginal mesh lawsuits that involve similar allegations. This was the company's first loss at trial, following wins in two Massachusetts trials over the summer. The judgment was also the largest so far in a trial involving transvaginal mesh, the report said.
The litigation involving transvaginal mesh has been growing since the U.S. Food & Drug Administration (FDA) issued its first alert regarding the risks associated with the use of these devices in October 2008, after it received 1,000 reports of serious complications among women who had received such implants. The agency issued a second warning in July 2011, after receiving nearly 3,000 new complaints involving pelvic mesh devices. Among other things, the FDA noted that some women continued to suffer serious and debilitating symptoms, even after they had undergone numerous procedures to remove the mesh from their bodies.
(fda.gov/downloads/medicaldevices/safety/alertsandnotices/ucm262760.pdf, FDA, July 2011)
According to court documents, more than 60,000 transvaginal mesh lawsuits have been filed in the U.S. District Court, Southern District of West Virginia by women who were allegedly injured by these products.
In addition to the C.R. Bard proceeding, other vaginal mesh litigations underway in West Virginia include:
In re: American Medical Systems, Inc., Pelvic Repair Systems Products Liability Litigation (MDL No. 2325)
In re: Ethicon, Inc., Pelvic Repair System Products Liability Litigation – (MDL No. 2327)
In re: Boston Scientific Corp., Pelvic Repair System Products Liability Litigation (MDL No. 2326)
In Re: Coloplast Corp. Pelvic Support System Products Liability Litigation (MDL No. 2387)
In Re: Cook Medical, Inc., Pelvic Repair System Products Liability Litigation (MDL No. 2440)
The Oliver Law Group offers free transvaginal mesh lawsuit evaluations to alleged victims of serious vaginal mesh complications. If you or a woman you loved were harmed by one of these devices, please visit http://www.legalactionnow.com, or call toll-FREE 1-(800) 939-7878 to learn more about your options for legal recourse.
About The Oliver Law Group P.C.
The Oliver Law Group P.C. is a different kind of law firm. One that focuses on the needs of the injured first. A compassionate law firm dedicated to fighting for the rights of victims and their families, and doing everything necessary to ensure those rights. We stand with our clients fighting as hard as if we were the injured. It is this determination that has earned The Oliver Law Group a nationwide reputation of excellence by successfully representing thousands of injured victims nationwide.
The experience of a large firm. The 1-on-1 dedication of a small firm. A reputation built on trust.
Experience. Dedication. Trust.
The Oliver Law Group P.C.
If you or a loved one has suffered injuries as a result of harmful pharmaceutical medications, unsafe medical devices, or do to a defective product, contact the attorneys at The Oliver Law Group P.C. toll-free at 1-800-873-5297 for your a free case review or visit http://www.legalactionnow.com