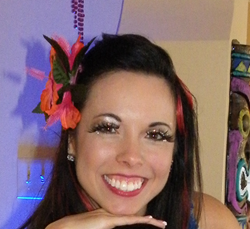 Dance Pizazz is the funnest, friendliest place in town.
St. Peters, MO (PRWEB) October 20, 2014
Successful entrepreneur and dancer Nikki McElvain announced today that she is now the sole owner Dance Pizazz (http://www.dance-pizazz.com) after buying out her business partner of five years. As Dance Pizazz celebrates six years of being in St. Peters, MO. Nikki plans to improve the customer experience while retaining the wholesome and welcoming family feel.
Launched in October 2008, Dance Pizazz attracts an extremely loyal and engaged following, and has helped hundreds who thought they couldn't dance, dance. Students at the studio come in all shapes and sizes, ages, and walks of life. They range from complete beginners to experienced dancers.
Instructors at Dance Pizazz have a welcoming demeanor and clear passion for ballroom which has been one of its greatest strengths, and even as the studio grows. "I ensure that that will not change," said Nikki.
"The past six years of has been a tremendous and rewarding experience," said Nikki. "I am ready to take the studio to the next level so that it will continue to reflect the fun and exciting experience of dancing. Ballroom dancing is one of the fastest-growing areas of dance with all the popular TV shows."
About Nikki McElvain
Nikki McElvain has balanced her passion for competition with education throughout her life. She is not only the owner of Dance Pizazz, the St. Louis area funnest and friendliest dance studio, but also has proven multitasking skills, as she has an MA in Media Communication in Advertising and Marketing.
Nikki began her dance career over 25 years ago as a skating champion. As she developed a distinguished career in competitive skating for over eight years in local and regional competitions, Nikki watched a popular program on TV and decided to sing-up for some local dance lessons and fell in love. Because of her passion for ballroom dance, Nikki has acquired encyclopedic knowledge of Smooth and Rhythm Ballroom Dances, along with developing syllabi for other popular social dances. She is a patient and tireless advocate for all to develop good technique, while enabling their own dancing expression.
Nikki has an extraordinary ability to transform beginners into confident dancers in no time through lessons she personalizes for each dancer's needs and learning style. Most of all, Nikki has helped hundreds of couples, ladies, gentlemen, and youth develop their own passion for ballroom dance. The relaxed, safe environment Nikki has created for the students have led them to think of the Dance Pizazz studio as a haven and the instructors and other dancers as part of an extended family.