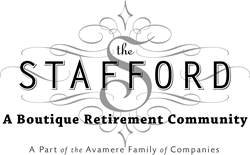 Lake Oswego, OR (PRWEB) September 18, 2014
Active Aging Week is a week-long observance to celebrate adults 50 and older as fully participating members of society and promotes the benefits of leading an active, healthier lifestyle. To celebrate, The Stafford – a boutique retirement community located at 1200 Overlook Drive, Lake Oswego, OR 97034 – will host two screenings of Cyber-Seniors - a humorous and heartwarming documentary.
"We are really excited for our residents to watch this great film," says Thomas Cloutier, Executive Director for The Stafford. "We have a very active and independent group of older adults that call The Stafford home. The majority of which have already broken down the generational digital divide we hear so much about. They utilize smartphones and the Internet to stay in touch with family and friends just as much, if not more, than I do!"
The film chronicles the extraordinary journey of a group of colorful senior citizens, as they discover the world of the Internet, through the guidance of teenage mentors. Their exploration of cyber-space is catapulted to another level when 89 year-old Shura decides to create a YouTube cooking video. A spirited video competition for the most "views" evolves as the cyber-seniors' hidden talents and competitive spirits are revealed. Cyber-Seniors provides insight into the wonderful things that can happen when generation gaps are bridged, proving you are never too old to get 'connected'.
"Cyber-Seniors is a feel-good movie that will make you laugh and it may make you cry a little, but hopefully it will inspire everyone who watches it to get involved," says Rita Segura, Marketing Director for The Stafford. "We would love it for members of the community to join us for these special screenings."
About The Stafford
The Stafford, which opened in 2008, is a nationally recognized boutique Retirement Community and Assisted Living campus nestled in the rolling hills of Lake Oswego, OR. It is a member of the Avamere Family of Companies and an operating member of Signature CareConnect, which gives its residents access to a local network of comprehensive post-acute healthcare services. Learn more at http://www.thestafford.net.