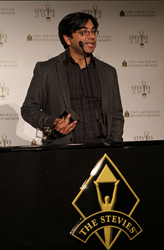 "The whole team worked really hard to make a great product, and we're appreciative of the recognition" – Prism Skylabs Founder and CEO Steve Russell
San Francisco, CA (PRWEB) September 19, 2014
Prism Skylabs, the global leader in visually understanding and optimizing offline commerce, today announced it had won a Gold Stevie Award for "Company of the Year - Computer Software Up to 250 Employees" during the 2014 American Business Awards.
The award recognizes Prism's commitment to excellence and rapid growth as a visual merchandising, auditing, and business intelligence service for retailers and other brick-and-mortar businesses.
"The whole team worked really hard to make a great product, and we're appreciative of the recognition," said Prism Skylabs Founder and CEO Steve Russell.
The award comes on the heels of the launch of Prism 2, a major update to Prism's cloud video platform, bringing retailers and other businesses new tools to manage and enhance the in-store experience:

Stunning Look and Feel: Completely redesigned, intuitive, consumer-style app for merchandising, auditing, and business intelligence.
Camera Browsing, Search, and Comparison: Audit and merchandise stores for a fraction of the time and cost it would take for an on-site visit.
Global Store Dashboard: Provides an immediate understanding of store performance, trends, and outliers.
Enterprise Reporting: Count customers and measure customer conversion at the floor, department, or even display level.
API: Prism's data and images can be incorporated into existing business intelligence systems.
The American Business Awards honor an all-inclusive spectrum of American business people and organizations -- from non-profits, emerging startups, major public companies and government agencies, to corner-office executives, product developers, marketers and web development teams.
Visit http://www.StevieAwards.com to learn more about the Stevie Awards.
Prism is a unique cloud service that transforms any video camera into a business intelligence tool that can be accessed from any device. Retailers large and small, as well as other customers, use Prism's platform to remotely audit, manage, and optimize their real-world businesses from anywhere on any device.
Visit http://www.prism.com to learn more or request a demo.