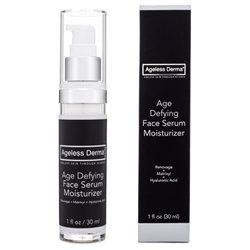 Dr. Mostamand says, "Age Defying Face Serum Moisturizer gives our customers the long-lasting moisture they've been seeking, with natural, proven ingredients. It is a light serum that will leave the complexion feeling silky and looking years younger."
Irvine, California (PRWEB) September 21, 2014
Ageless Derma now introduces their latest skin care development with the inclusion of its Age Defying Face Serum Moisturizer. The company created this anti-aging moisturizing product specifically for its ability to repair skin and restore lost moisture for a renewed, younger, healthier appearance.
The Age Defying Face Serum Moisturizer by Ageless Derma accomplishes the main corrective goals that mature skin seeks. Newly found moisture is regained with the use of this anti-aging skin care product. As moisture is regained with the Age Defying Face Serum Moisturizer, skin feels healthier, more comfortable and attains a more youthful looking appearance. The skin spots that tend to appear with age fade away. In addition, this latest Ageless Derma moisturizer will firm and renew sagging, dull complexions. Any discolorations or enlarged pores will be regulated.
The Age Defying Face Serum Moisturizer's ingredients include Renovage®, a powerful patented ingredient invented in France. This specialized substance works on revitalizing all of the major signs of skin aging. Renovage® is the leading ingredient when skin hydration and return of the barrier function is of utmost importance.
Another substance in Age Defying Face Serum Moisturizer is Matrixyl®, used to anti-age skin by lessening the depth of wrinkles. Studies have shown wrinkles and lines are reduced by almost 70% with Matrixyl®. Other ingredients in Ageless Derma's latest innovation include hyaluronic acid, a natural substance produced in our own bodies whose stores diminish with age. Hyaluronic acid brings elasticity to skin, in addition to moisture, and it helps in the fight against free radicals.
At Ageless Derma, we believe we are making something special happen. Our line of physician-grade skin care products incorporates an important philosophy: promoting overall skin health by delivering the most advanced biotechnology and natural ingredients to all of the skin's layers. This attitude still resonates today with our founder, Dr. Farid Mostamand, who nearly ten years ago began his journey to provide the best skin care options for people who want to have healthy and beautiful looking skin at any age. About our latest product, Dr. Mostamand says, "Age Defying Face Serum Moisturizer gives our customers the long-lasting moisture they've been seeking, with natural, proven ingredients. It is a light serum that will leave the complexion feeling silky and looking years younger."
Ageless Derma products are formulated in FDA-approved Labs. All ingredients are inspired by nature and enhanced by science. Ageless Derma products do not contain parabens or any other harsh chemicals, and they are never tested on animals. The company has formulated five unique lines of products to address any skin type and skin condition.