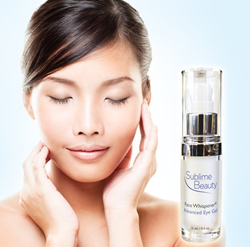 The special ingredients, all developed in Europe, diminish wrinkles, bags and dark circles.
St. Petersburg, FL (PRWEB) September 19, 2014
Reduce bags under the eyes, dark circles and wrinkles with patented ingredients made just for these issues in a serum.
"Our Face Whisperer® Advanced Eye Gel includes Matrixyl, Haloxyl and Eyeliss," says Kathy Heshelow, founder of Sublime Beauty®. "Each works on specific issues, like inflammation, improving circulation and boosting collagen, to improve the eye area."
Today take 30% Off the special eye serum for wrinkles, dark circles and bags at Amazon with coupon code EYEGEL35.
A special report about the ingredients can be obtained here plus addition to the secret discount newsletter from Sublime Beauty®.
The eye serum was covered by NewsWatch TV, a consumer news show airing on the A&E Channels.
ABOUT: Sublime Beauty® is a quality skincare company that focuses on products to "Age Younger". Ingredients help to boost collagen, hydrate, relax wrinkles and improve skin. A niche includes healthy Skin Brushes. The company webstore offers free standard shipping and a VIP Club. Sign up for Secret Sales on the site. Products also available on Amazon.