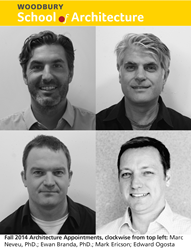 LOS ANGELES (PRWEB) October 01, 2014
The School of Architecture at Woodbury University today announced the appointment of seven new members to the faculty -- four in the Architecture program in Los Angeles and three in Interior Architecture.
"Students at Woodbury School of Architecture have unparalleled access to a stellar faculty composed of practicing architects, theorists, policy makers, artists and technical innovators," said Norman Millar, AIA, Dean of the School. "The students themselves identify this meaningful personal attention as their most valued part of their experience here. All of these appointees are accomplished in the profession and inspiring in the classroom, providing the high level of inspiration and mentorship that is expected at Woodbury. We're delighted to have them join us or continue in a new capacity "
In the Architecture Program, new and continuing faculty members include:

Marc Neveu, PhD., Department Chair (Los Angeles), joins Woodbury from Wentworth Institute of Technology, in Boston, where he has served as Associate Professor since 2011. Neveu is both an administrator and a scholar, with equal interest in the history and future of architectural education and practice. He received his PhD. and his MArch in History and Theory of Architecture from McGill University, and a BArch from Wentworth. He currently serves as Executive Editor of ACSA's Journal of Architectural Education (JAE).
Ed Ogosta, Visiting Faculty, received his MArch from Harvard's Graduate School of Design and his BA in Architecture from the University of California, Berkeley. He is Principal of the firm Edward Ogosta Architecture, Inc., which he founded in 2007. His firm's projects have garnered multiple local, state and national awards. Prior to going out on his own, Ogosta worked at Clive Wilkinson Architects and Michael Maltzan Architecture.
Mark Ericson, Graduate Coordinator, began teaching at Woodbury School of Architecture on the Adjunct Faculty in 2009, became a full-time Assistant Professor in 2011 and was named Associate Professor in August. He received his MArch from SCI-Arc and a BA from Rutgers University. He has previously worked for the firms of AGPS in Los Angeles/Zurich and Erdy McHenry in Philadelphia. His research and teaching focus on representational methods that conflate historical methods of drawing with technological developments in the discipline.
Ewan Branda, PhD., Undergraduate Coordinator, began teaching at Woodbury School of Architecture as Assistant Professor in 2009 and was promoted to Associate Professor in 2012. He received his PhD. in Architecture from UCLA, his SMArchS from MIT, and a BArch from University of Waterloo. He was previously licensed in Quebec and worked for the firms of Saucier and Perrotte and Peter Rose. His research specialty concerns history and technology in design; his teaching focuses on the architectural thesis.
In Interior Architecture, the appointments include:
Christoph Korner, Department Chair, is CEO and co-founder, in 1998, of GRAFT, inc., an international design firm with offices in Berlin, Los Angeles and Beijing. As department Chair, he brings proven administrative and marketing skills, as well as design, teaching and research experience. Korner holds a MArch from UCLA as well as an MArch and a BArch from the Technical University of Braunschweig, Germany. He has taught in Interior Architecture and Architecture at Woodbury since 2008.
Kristin King, Faculty, has been teaching in Woodbury's Interior Architecture program since 2007, serving as Assistant Chair of the program from 2010-2012 and Interim Chair from 2012-2014. An NCIDQ certificate holder, she has a BA in Interior Design from Kent State University and is currently pursuing her MFA in Light Art Installation at Claremont Graduate University. Since 1998, she has been Principal of KKID, a design firm specializing in restaurant, hospitality, commercial production offices, and residential design projects.
Matthew Gillis, Visiting Faculty Interior Architecture + Architecture, first joined the Woodbury School of Architecture in 2002, as an adjunct faculty member. He has taught in both the Architecture and Interior Architecture programs, serving since 2013 as a Visiting Assistant Professor of Interior Architecture. He received his MArch from UCLA and a BDesign in Architecture from University of Florida. He is also Principal of the firm G!ll!s, founded in 2011, which has recently won awards for exhibition design.
About Woodbury University
Founded in 1884, Woodbury University is one of the oldest institutions of higher education in Southern California. Woodbury offers bachelor's degrees from the School of Architecture, School of Business, School of Media, Culture & Design, and College of Transdisciplinarity, along with a Master of Arts (MA) in Media for Social Justice, Master of Architecture (MArch), Master of Interior Architecture (MIA), Master of Science in Architecture (MSArch), and Master of Leadership. The San Diego campus offers Bachelor of Architecture and Master of Architecture degrees, as well as an MSArch degree with concentrations in Real Estate Development and Landscape + Urbanism. Woodbury ranks 15th among the nation's "25 Colleges That Add the Most Value," according to Money Magazine. Visit http://www.woodbury.edu for more information.