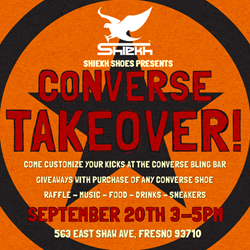 Fresno, Calif. (PRWEB) September 18, 2014
"Express yourself!" will be the motto this Friday at Shiekh Shoes in Fresno where community members will be encouraged to show off their individuality through their footwear.
Shiekh Shoes and Converse will team up Saturday, Sept. 20, for the Converse Takeover at the 563 East Shaw Ave., to help patrons customize their Cons. Attendees will be able to add personal touches to their own Converse as well as enter a raffle for prizes.
From 3 p.m. to 5 p.m., a guest DJ will spin music while glitter, gems, studs and more are used to add flair to sneakers. Monster will provide drinks, and every person purchasing a pair of Converse will receive a free shirt and socks.
Community events like the Converse Takeover provide an opportunity Shiekh Shoes to interact with customers to help introduce them to new brands and favorites, like Converse. We enjoy being able to both give back to the communities we serve and creating brand awareness for the high caliber products we carry.
Shiekh Shoes is a footwear and apparel retailer selling products for men, women and kids from top brands like Converse, Nike, Jordan and more. Based in Ontario, Calif., Shiekh Shoes operates nearly 140 stores in California, Oregon, Nevada, Washington, Arizona, New Mexico, Illinois, Tennessee, Michigan and Texas as well as an online store at ShiekhShoes.com. Products featured range from athletic shoes and sneakers to women's dress and casual shoes and boots to shoes for the kids. Special offers include new releases and exclusives from top brands like Nike and Jordan.