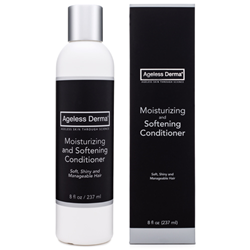 Dr. Mostamand says, "Ageless Derma's latest formulation, Moisturizing and Softening Conditioner, is a boon to those seeking a solution to dry, dull, unmanageable hair
Irvine, California (PRWEB) September 29, 2014
The Ageless Derma Company introduces its Moisturizing and Softening Conditioner, developed to make hair more manageable, healthier and stronger, with increased volume. The restorative ingredients placed into this hair-conditioning agent include pure botanicals that aid in the hair's health renewal without the use of unsafe, harsh chemicals or potentially dangerous substances. Moisturizing and Softening Conditioner by Ageless Derma softens hair even as it makes each strand stronger and healthier.
One of the keys to this powerful formulation includes the natural botanical olive leaf extract, derived from tough olive trees. This ingredient imparts a high glossy shine and smoothness to hair, similarly to the way in which pure olive oil would. However, this ingredient does not stop its beneficial effects at this point. The anti-oxidant, anti-inflammatory, and anti-bacterial properties of olive leaf extract enable Moisturizing and Softening Conditioner to protect the hair follicle structure as it goes deep into each strand to hydrate and guard against dryness, environmental stress, sun exposure, excessive brushing, blow drying, and other elemental damaging effects on hair. The olive leaf extract in Moisturizing and Softening Conditioner can actually improve the immune system of the hair follicles and scalp, allowing for a deep conditioning and restructuring of hair.
The pure shea butter in Moisturizing and Softening Conditioner is derived from the shea tree nut. Hair is transformed to become more flexible and is deeply hydrated with the inclusion of this luxurious extract.
Moisturizing and Softening Conditioner also contains wheat protein, which allows the scalp and hair to keep in moisture as it makes each strand of hair stronger, smoother, and thicker. Hair requires wheat protein to strengthen it, make it fuller, help retain its moisture and smooth the tresses.
At Ageless Derma, something very unique is happening. A line of physician-grade skin care products incorporates an important philosophy: promoting overall skin health by delivering the most advanced biotechnology and natural ingredients to every one of the skin's layers. This attitude still resonates today with the company founder, Dr. Farid Mostamand, who nearly a decade ago began his journey to provide the finest skin care options for people who want to have healthy and beautiful looking skin at any age. About our latest product, Dr. Mostamand says, "Ageless Derma's latest formulation, Moisturizing and Softening Conditioner, is a boon to those seeking a solution to dry, dull, unmanageable hair. As with all Ageless Derma specialty products, the Moisturizing and Softening Conditioner contains no parabens; its botanical ingredients complete the work necessary for a true renewal, conditioning, and rejuvenation of the scalp and hair."
Ageless Derma products are formulated in FDA-approved Labs. All ingredients are inspired by nature and enhanced by science. Ageless Derma products do not contain parabens or any other harsh chemicals, and they are never tested on animals. The company has formulated five unique lines of products to address any skin type and skin condition.