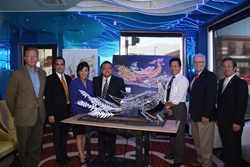 We are going to include pyrotechnic effects that will make it seem as though the bird is coming to life.
Pasadena, CA (PRWEB) September 19, 2014
Singpoli Group, LLC announces its float design for the 2015 Tournament of Roses Parade. This is the Chinese-American company's second year with a float entry in the Rose Parade. Last year's float earned the Extraordinaire trophy as the parade's most spectacular float.
The Singpoli float design artwork and a scale model was revealed at the newly opened dusitD2 constance pasadena hotel, which is located along the parade route on East Colorado Boulevard. Designed by Paradiso Parade Floats, the entry features a 55-foot-long firebird with flapping wings that have a 30-foot wingspan.
Titled "A Bright Future", the float design is a representation of strength in the face of adversity, said Kin Hui, president and CEO of Singpoli. The theme incorporates the legend of the firebird rising from the ashes to touch on hope, optimism and rebirth, Hui said.
Float designer Charles Meier, who also designed last year's float, said the phoenix would contain many surprises for parade-goers. "We are going to include pyrotechnic effects that will make it seem as though the bird is coming to life," Meier said.
On hand at the unveiling were Rep. Judy Chu, D-Pasadena, Arcadia City Councilman Sho Tay and Tournament of Roses' CEO Bill Flinn.
The 2015 Tournament of Roses Parade begins at 8 a.m. January 1, 2015. The parade is seen by millions on television worldwide in more than 200 international territories and countries.
About Singpoli
Organized in 1991, Singpoli is an association of companies specialized in architecture, design, construction, real estate development, investment, brokerage, asset management and finance. In addition, Singpoli runs a successful new media company, is active in local communities by supporting art and charitable organizations, and invests in innovation projects and cutting-edge medical research. Singpoli Group is based in Southern California with offices in Arcadia and Pasadena. For more information, visit http://www.singpoli.com.
About Paradiso Parade Floats
Paradiso Parade Floats is a boutique float builder for the Tournament of Roses Parade. The company is the Rose Parade's newest float-builder now entering its third year. Float designer Charles Meier has earned awards for 90% of his designs – the highest prize-winning rate in the industry. Paradiso Parade Floats is based in Irwindale, California.