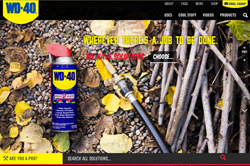 We think of Geary LSF not just as an agency, but as an extension of our marketing team and as a partner
San Diego, CA (PRWEB) September 23, 2014
The latest innovative and beautiful creative project to come from international digital agency, Geary LSF, is the new WD-40® brand website, WD40.com. Keeping the client's commitment to consumer education at the heart of the project, Geary LSF's award-winning creative team took an iterative and collaborative approach to ensure a superior, finished product that achieved the marketing goals of the client.
From an aesthetic perspective, Geary LSF's Creative Director, Kevin Hird, and his team created a rich experiential design to emphasize product use in real world environments and situations. "We were honored at the opportunity to reimagine the WD-40 brand for the web, and to continue to work closely with the WD-40 Company team in achieving their marketing goals," said Mr. Hird. "With such an iconic brand as the WD-40 brand, we wanted to be true to its history while also providing the very best user experience in an appealing visual manner. We accomplished this through a clean minimalist and flat design and an honest materialism specific to the web."
As strong proponents of mobile-optimized web properties, and with nearly forty percent of WD40.com visitors coming from mobile devices in 2013, Geary LSF aimed to deliver the desktop experience to all consumers, despite their device of choice. This was achieved through a mobile first strategy and fully responsive design. Additionally, to enhance the user experience and functionality of the site, Geary LSF created unique features such as the Solution Explorer, a visually driven natural language form that provides an interactive guide to product uses, and a Smart Search component characterized by a fully indexed search of 2000+ uses, videos and products with a predictive search engine. Both features enhance accessibility of product uses and accomplish the goal of consumer education.
With a unique community of brand fans already established, the client expressed a desire to also incorporate an interactive aspect to the site in order to drive increased user engagement. As such, a multimedia upload tool that allows site visitors to upload pictures and videos of their own WD-40 brand product uses, was added to the new brand website.
When asked about her experience working with the Geary LSF team on the website redesign project, WD-40 Company's Director of Digital Marketing, Paige Perdue, had the following to say, "We think of Geary LSF not just as an agency, but as an extension of our marketing team and as a partner. Their collaborative approach and execution of this project showcases just how well they understand our business, and more importantly, how much they care about exceeding our marketing goals. And while we couldn't be happier with the new website, we look forward to continuing the iteration process and expanding our marketing efforts with Geary LSF."
For more information on Geary LSF's creative and web development services, or to learn how a new brand website can enhance your digital marketing efforts, visit GearyLSF.com today or contact a digital marketing expert via email at sales(at)gearylsf(dot)com.
About Geary LSF
Geary LSF is an integrated full-service online marketing group that uniquely optimizes the digital customer engagement path, delivering more results per campaign. It provides advertisers with comprehensive services from Strategy to Development, Media Planning to Placement, SEO, SEM, Analytics, Social, Local and Mobile media. Headquartered in San Francisco, the 200-people strong Geary LSF manages campaigns for more than 240 brands worldwide including: WD-40 Company, Bumble Bee Foods, MegaPath, Aramark, Ashley Furniture, Target, Club Med and several others. For more information, please visit http://www.gearylsf.com.
About WD-40 Company
WD-40 Company is a global marketing organization dedicated to creating positive lasting memories by developing and selling products which solve problems in workshops, factories and homes around the world. The Company markets its multi-purpose and specialty maintenance products and its homecare and cleaning products under the following well-known brands: WD-40®, 3-IN-ONE®, X-14®, 2000 Flushes®, Carpet Fresh®, no vac®, Spot Shot®, 1001®, Lava® and Solvol®.