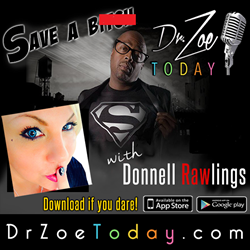 'If laughter is the best medicine, then Donnell Rawlings is pure salvation.' Dr. Zoe
New York City, New York (PRWEB) September 19, 2014
Those who haven't caught Dr. Zoe's controversial radio show either via the free app or in a live broadcast on her website at http://drzoetoday.com must make it a point not to miss her next show because this time the guest will be none other than Donnell Rawlings, famously known as "Ashy Larry" from the Chappelle Show and the guy who started "Save a B*tch" movement which has been endorsed by Snoop Dogg, Too Short and Sway Calloway just to name a few. The show is scheduled to be aired Wednesday, September 24th, 9PM EST 8PM CST 7MST 6PM PST in the "Dr. Zoe Today" app and will continue to be featured in show archives after the interview, along with a plethora of other entertainment. It's been said that if Howard Stern, Dr. Ruth, Chelsea Handler and Oprah had a foursome and were able to produce an offspring, it would be Dr. Zoe. Viewers can find the app on Google Play and App Store.
Donnell Rawlings is a most unpredictable personality on MTV and a superstar comedian who has entertained millions of comedy fans Worldwide. His unique blend of improvisation, characters & material has made him one of the most sought after slapstick comedians in the entertainment industry. He has delivered some of his best and notable performances in shows like "Egypt and Ashy in the Morning," "The Big Trigger Morning Show," "Chelsea Lately," "MTV's Guy Code," "The Wire," "From Ashy to Classy," "Reality Bites Back," "Hartbeat Weekend" hosted by Kevin Hart and any more.
Hosted by Dr. ZoeLena Shuster aka Dr. Zoe, the "Dr. Zoe Today" show is a shocking yet popular weekly radio show that is aired every Wednesday night at 9EST-8CST-7MST-6PST. As an individual, Dr. Zoe has been "The Confidential Coach" for over a decade to celebrities in entertainment, sports, business, politics and religion. Besides, she is the Founder and President of Katapult Enterprises ( http://katapultent.com ) which offers Ultra-Exclusive Services for the High Profile Lifestyle. In fact, apart from hosting her own show she has been an honorable guest on several renowned TV and Radio Shows. Through her "Dr. Zoe Today" show/app she provides real, raw and relevant information related to love, sex and relationships.
For more information, simply visit: http://drzoetoday.com/