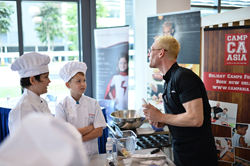 Singapore, Singapore (PRWEB) September 20, 2014
Stamford American International School recently played host to Singapore's first ever Little Super Chef Cooking Competition organized by DiningCity Singapore in partnership with Camp Asia.
Eight kids aged from 9-12 years battled it out in the kitchen, to create the ultimate Shepherd's Pie and a technically challenging Bombe Alaska in just 1.5 hours. The dishes were judged by a panel of three culinary experts including celebrity chef Emmanuel Stroobant.
The first of its kind, the Little Super Chef Cooking Competition gave young budding chefs, like 10 year-old Noah Alt, a Stamford student, and fellow schoolmates Ava Walsh and Liam Joy, a chance to showcase their culinary skills.
Noah has been an avid fan of the Super Chef course run at Camp Asia. He has attended the 5-day holiday culinary camp 7 times since 2011, and has developed his culinary skills, earning him a place on the Little Super Chef shortlist.
Jody Alt, Noah's mother, said: "There is no doubt that my son loves cooking and I'm so proud that he had the chance to show off his talents at the Little Super Chef Competition. Each holiday, he insists we sign him up for Super Chef Camp and it is great to see him come home from camp excited to show off the different recipes that he has learned".
The Super Chef Camp is a hot favorite amongst Camp Asia participants, attracting students from around the region. During the camp, Chef Stroobant and his team teach young children great kitchen skills, while also educating them on the importance of healthy and nutritious meals.
'The high standard of culinary skills and understanding of ingredients that the children have shown at today's competition is very encouraging. As a father and chef, I am very particular about what my children eat and learn to enjoy. I believe that knowing what goes into your food is the first step to understanding what a healthy and nutritious meal is—this is what we aim to achieve with our partnership with Stamford," says Chef Stroobant.
Chef Stroobant is the owner of Emmanuel Stroobant Group, which operates 7 restaurants in Singapore. He is also an avid health and fitness practitioner and a firm believer that promoting the importance of consuming healthy meals will help the next generation develop food habits that give rise to good health. He has spent the last few years researching and developing tasty, healthy and nutritious recipes that appeal to children. Since 2011, Stamford has also partnered with Chef Stroobant to take care of its student and parent cafeteria instilling healthy eating habits in the young generation with more than 25% organic ingredients, no MSG or trans-fat, low GI ingredients and daily food made from scratch including chicken stock for soups to mincing meat for sausage and much more.
ABOUT STAMFORD
Stamford American International School (Stamford) is the benchmark for excellence in international education in Singapore. With its experienced team of educators, cutting-edge facilities and rich cultural diversity, there is no better way to prepare students for a competitive and fast changing world.
Stamford's academic curriculum prepares students for entry into the world's top universities. Stamford is the first school in Singapore to offer students both the International Baccalaureate (IB) Diploma and the American High School Diploma – giving students an international experience with an American foundation. Stamford also excels in the teaching of languages offering Mandarin and Spanish classes on a daily basis, beginning when students are as young as two years old.
Stamford's $300 million campus off Upper Serangoon Road is the most advanced learning environment ever built and is the largest investment in a Kindergarten to Grade 12 education facility anywhere in the region, providing a major economic injection into the Singapore economy. The campus features state-of-the-art technology and facilities, establishing it as the benchmark for international schools around the world. Stamford's campus is designed to be the perfect environment for preparing children for careers in the 21st century.
Key features of the school include:

iLearn - Singapore's first interactive learning environment where guest lecturers and teachers from around the world can interact with students
Singapore's first 1 to 1 iPad program for K2 to Grade 5, & MacBook Pros for older students
21st century Media Resource Centres - beyond the traditional libraries, these centers are up to date with the latest traditional, as well as technological resources
State-of-the-art science wing and computer laboratories
Comprehensive art facilities, including an Art Gallery for exhibitions
World-class sporting facilities featuring climbing walls, gymnasiums, sport fields, swimming pools, tennis courts, a Golf Academy, and more
Specially designed Early Years and Nursery facilities
Electronic security system for each child
For more information, please contact:
Samantha Kudus
Ogilvy Public Relations, Singapore
71 Robinson Road, #07-00, Singapore 068895
DID: +65 6213 9963
Fax: +65 6213 7840
Email: samantha(dot)kudus(at)ogilvy(dot)com