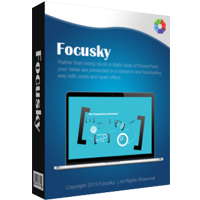 (PRWEB) September 21, 2014
Students and educators in search of a robust online presentation software for creating slideshows or a digital whiteboard have a new option. Focusky Software Co., Ltd, the Chinese-based expert in online presentation software development, has announced key upgrades to their free education presentation maker.
Focusky, which allows users to build professional-quality digital presentations, recently received several upgrades to its core software. The powerful program has already featured a zooming canvas, animations, multimedia embedding, and more. Now, students and educators can use 20+ new animation effects that were added to Focusky. The new animation effects will allow the software's users to create animated presentations easily.
In addition, Focusky now features imported content. Students and teachers can import content from *.ppt and *.pptx files, and slides with imported content can easily be edited. For teachers and students who are transferring from PowerPoint to Focusky, these features make the transition a breeze. Focusky now allows users to add background music to their presentations. This feature, which helps educators teach even more effectively, lets teachers add background music or even add a voiceover to further explain the presentation bit by bit. While all of these features can be used by instructors and teachers, students can also use Focusky to prepare coursework, study, or create presentations.
The interactive slideshow creator from Focusky is an excellent way for instructors to engage their class with an exciting presentation. Hosting a plethora of powerful features, Focusky offers embedding of images, Flash, MP4, MP3, YouTube videos, Vimeo videos, shapes, and styles. Conveying various templates and themes, Focusky makes designing and editing presentations simple. Online and offline presentations are supported, and Focusky supports publishing via webpage, *.exe file for Windows PC, Mac app for Mac PC, and zip file. In addition, users can share their presentations through social media networks.
The new upgrades give students and teachers a simple way to clarify the concepts they are teaching and learning. More information can be found at http://focusky.com/zooming-presentation-features.html.
About Focusky
Chinese-based Focusky Software Co., Ltd, was established in 2008. Specializing in online presentation software development, the company is a professional science and technology company. The premier digital whiteboard, Focusky allows users to create stunning animated and creative slideshows.