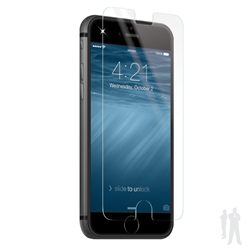 Lehi, Utah (PRWEB) September 19, 2014
BodyGuardz, leader in mobile device protection, announces the availability of its full line of premium screen protectors for the iPhone 6 and iPhone 6 Plus. Without compromising screen clarity for protection, BodyGuardz accessories provide maximum defense from impact, shock or scratches.
"We are excited to bring our award winning technology to Apple's iPhone 6 and iPhone 6 Plus," said Kirk Feller, CEO and president of BodyGuardz. "Our screen protectors are crafted with quality materials to ensure world-class defense that won't sacrifice functionality."
Available protection includes:
ScreenGuardz Pure® ($39.95): Tempered-glass screen protection with ion exchange technology provides unrivaled strength and durability. The ultimate impact and scratch protection offers perfect clarity and adhesion with an added anti-smudge coating.
ScreenGuardz Pure® Anti-Glare ($39.95): Our original tempered-glass featuring precision surface etching to reduce glare, an exceptionally clear matte finish to reduce fingerprints, and extreme impact and scratch protection.
HD IMPACT™ and HD IMPACT™ Anti-glare ($29.95): The Next Generation in PET screen protection, which combines scratch protection with extreme impact protection using a 3-layer technology that cushions your device from impact and shock.
Clear Skins™ ($24.95): UltraTough® film is an ultra-thin, virtually indestructible, and optically clear polyurethane protector. With self healing properties, UltraTough wraps the entire iPhone to provide complete protection.
Armor™ ($19.95): BodyGuardz ArmorTM Carbon Fiber is a PVC based film that gives the ultimate in expression and protection. Available in red, white and black, each carbon fiber skin is custom designed to fit your device and provide tough scratch protection.
BodyGuardz full line of accessories for iPhone 6 and iPhone 6 Plus are available now at http://www.bodyguardz.com.
About BodyGuardz
Founded in 2002, BodyGuardz is committed to offering top-quality products and services at a competitive price. The company prides itself in providing products, service and delivery that customers notice as a step above the rest. BodyGuardz designs reliable mobile device accessories that keep up with today's active lifestyles. Learn more about BodyGuardz by visiting http://www.bodyguardz.com, http://www.facebook.com/BodyGuardz or Twitter @bodyguardz.