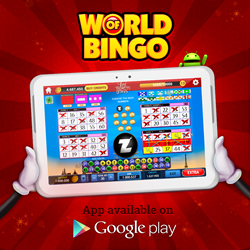 Las Vegas, NV (PRWEB) September 23, 2014
World of Bingo, for Android, offers the best possible video bingo experience on mobile devices, while maintaining the essence of Zitro's video bingo games that so many enjoy playing around the world.
The first games available on World of Bingo for Android are the well-known Last Bingo in Paris, Secret Bingo and La Catrina. Other games, which are already available on the Facebook version of World of Bingo, will be appearing in the next few weeks.
World of Bingo for iOS devices, is currently in the final phase of development, and will be available in the near future.
Download World of Bingo for Android here for free: https://play.google.com/store/apps/details?id=air.com.zitro.labs.mobile
Play World of Bingo for Facebook here for free:
https://apps.facebook.com/worldofbingo/
Recommended minimum technical specifications for an optimal gaming experience:

RAM: 512 Mb or higher
Android version: 2.2 or higher
CPU: 800 MHz or higher
Screen resolution: 4.3" or higher
Memory: 400 Mb
About World of Bingo:
World of Bingo is Facebook's No. 1 video bingo suite and, in the following days, will be also available for Android and Apple mobile platforms. Launched in the beginning of April, World of Bingo offers the Zitro's most successful video bingo games in Freemium mode. Zitro is the world leader in video bingo games.
About Zitro Interactive:
Zitro Interactive is the online gaming division of Zitro, world leader in video bingo games. Zitro Interactive is a multi-discipline team of more than forty specialists in state-of-the-art digital technologies. Zitro Interactive focuses its developments on providing the best possible gaming experience on digital media, adapting its products in the very best way to the peculiarities of each platform used.
For further information, contact: Zitro Press Department: marketing(at)zitro(dot)lu