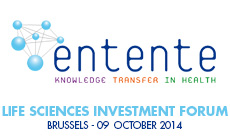 Brussels, Belgium (PRWEB UK) 19 September 2014
The partners of the ENTENTE-project together with the European Commission and EuropaBio (the European association for BioIndustries) are proud to announce the companies selected to present at the ENTENTE Life Sciences Investment Forum, taking place on October 9th at the Stanhope Hotel in Brussels, during the 2014 European Biotech Week.
Selected companies:
The 28 European selected companies have been evaluated by the selection committee members among a pool of 100 innovative companies active in the Life Sciences sector and seeking investment opportunities and international exposure. The entrepreneurs will pitch their innovation, developments and needs in front of an international jury consisting of about 40 business angels, venture capitalists, corporate investors and other industry experts.
List of selected companies:
A2M Pharma GmbH [DE] - A2M Pharma is a neurology drug development spin-off from Schwarz Pharma.
BC Platforms [FI] - BC Platforms is a leading innovator in the rapidly growing genomic data management markets.
BCO Pharma Ltd. [IE] - The product is a combined drug and drug delivery device to treat otitis media.
BioTech Tools [BE] - BioTech Tools. is a clinical stage bio-pharmaceutical company committed to the development and commercialization of novel immunotherapy medicines for respiratory and food allergies based on the ASIT+ technology platform.
BIOXODES SA [BE] - Bioxodes is a start-up developing a natural product addressing blockbuster cardiovascular and potentially orphan markets.
CALCISCO AG [CH] - CALCISCO offers novel blood test for the assessment of calcification propensity and improved cardiovascular risk management.
CluePoints [BE] - CluePoints is a Central Statistical Monitoring solution that employs unique statistical algorithms to determine the quality, accuracy and integrity of clinical trial data.
Coimbra Genomics [PT] - Coimbra Genomics (CG) develops software tools for precision medicine.
CuraVac [BE] - CuraVac offers Therapeutic Vaccines for Autoimmune Diseases.
DBS System [CH] - DBS System is a blood collection revolution, enabling blood sampling anywhere, at any time and by anyone.
DermoSafe SA [CH] - DermoSafe SA provides a complete tele-medicine Solution & Services for melanoma early identification.
DualTPharma [NL] - DualTPharma develops highly-potent and proprietary pharmaceuticals for personalized cancer therapy.
ENTEROME [FR] - Enterome is pioneering the development of novel products to support personalized diagnostics & therapies and the clinical development of new drugs in microbiome-related diseases.
EyeTechCare [FR] - EyeTechCare's proprietary ultrasound technology offers non-invasive treatment of glaucoma.
Inflamalps SA [CH] - Inflamalps develops novel therapies for the treatment of autoimmune diseases of the eye.
LindaCare [BE] - LindaCare is a Remote Patient Telemonitoring Unified Dashboard & Productivity Tool.
Live Good [HR] - BodyRecog is an innovative ICT system for human body proportions recognition and analysis.
Magnomics [PT] - Magnomics offers an easy to use Point-of-Care in vitro diagnostic device for bacterial detection.
Nano Live [CH] - Nanolive has developed a disruptive proprietary technology, which allows for the very first time to explore a living cell in 3D without damaging it.
OMEICOS Therapeutics [DE] - Omeicos offers novel eicosanoid-like drugs for the treatment and prevention of atrial fibrillation.
OncoLab Diagnostics GmbH [AT] - OncoLab Diagnosticss focuses on production and commercialisation of proprietary innovative technologies to diagnose cancer earlier, and to detect and analyse traces of cancer in the patient's body.
PETsys Electronics - Medical PET Detectors, SA [PT] - Electronics and Detectors for PET scanners to early cancer's detection.
Plux [PT] - Plux creates compelling quantified self products for Physiotherapists and Researchers using an innovative biosignal monitoring platform.
Pragma Therapeutics [FR] - Pragma Therapeutics is a biopharmaceutical company in creation, developing innovative small molecules for the treatment of acute stress disorders.
Quanta Fluid Solutions [GB] - A pioneering UK-based medical devices company focusing on the development and commercialization of a novel cartridge-based haemodialysis system.
SamanTree Technologies [CH] - Digital microscopy company, with the vision to enable intra-operative point-of-care digital pathology for tumor surgery guidance.
TENSIVE [IT] - Tensive is an emerging biomedical startup that develops vascularizable biodegradable prostheses aiming to offer natural breast reconstruction/augmentation.
WISE s.r.l. [IT] - The new generation of leads for neuromodulation (NM) for treatment of chronic pain and Parkinson: unbreakable, less invasive and cheaper.
Event Programme
The ENTENTE Life Sciences Investment Forum will be especially dedicated to strengthening the life sciences innovation potential in Europe through promoting and empowering innovative SMEs seeking financial facilitation and international exposure.
Throughout the day participants will have the opportunity to assist to inspiring panel discussions from key players of the industry and to innovative companies' presentations, and have plenty of networking opportunities including targeted one2one meetings.
The opening panel, moderated by Claus A. Andersson (Sunstone Capital) will focus on 'Key investment trends in biotech and medtech and see the contributions of Ruxandra Draghia-Akli (European Commission, Directorate Health Research) Mark Wilson (GlaxoSmithKline) Francesco De Rubertis (Index Ventures) Florent Gros (Novartis Venture Funds.
Find out more information here.
For further information on the ENTENTE Life Sciences Investment Forum please contact Annalisa Gardella from Europe Unlimited via mail at annalisa(at)e-unlimited(dot)com or via phone at +32 (0) 2 643 36 91.
***
About ENTENTE
ENTENTE (FP7 project) is the first European network to boost knowledge transfer activity in health research among academic and public organisations and industrial counterpart. The project promotes transnational collaboration among all stakeholders through networking activities, sharing experience and best practices and implementing an exchange programme for professionals of Technology Transfer in Health.
See more at: /entente-health.eu/
About EuropaBio
EuropaBio is the European Association for Bioindustries, bringing together bioscience companies from all fields of research and development, testing, manufacturing and distribution of biotechnology products. Its corporate, associate and national association members are involved in research, development, testing, manufacturing and commercialization of biotechnology products and processes, and have a wide range of activities: human and animal health care, diagnostics, bio-informatics, chemicals, crop protection, agriculture, food and environmental products and services. See more at: http://www.europabio.org