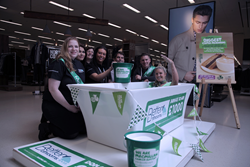 (PRWEB UK) 19 September 2014
M&S Cafés nationwide, including the M&S Café in Warrington Gemini, will be joining forces once again with Macmillan Cancer Support throughout September to raise money for the charity's annual fundraising event, World's Biggest Coffee Morning.
On Friday 26th September, M&S Warrington Gemini will be hosting a coffee morning with a difference and is calling on customers to join in the fun! Aiming to help Macmillan make this year's coffee morning the most successful yet, the store has kicked started fundraising by hosting in store bike challenges and tombolas. The store has also teamed up with Better Bathrooms and employees have voluntarily submerged themselves in green gunge in a bid to encourage customers to donate vital funds. Each customer who donated was entered into a prize draw to win £1,000 off a new bathroom from http://www.BetterBathrooms.com.
Better Bathrooms, the UK's largest independent bathroom and tile retailer, CEO Colin Stevens added: "We are so excited to team up with Marks & Spencer Warrington Gemini staff to raise money for MacMillan. The money we raised together will help MacMillan Cancer Support to continue their amazing work."
Customers attending the coffee morning at M&S Warrington Gemini will be joining over five million people across the UK who are expected to take part on the 26th September.
Throughout September M&S will be donating 5p from every coffee and cake sold in its Cafés and 20p from every Victoria Sponge sold in its Food Halls. A set of bespoke Macmillan badges designed by renowned British designer Celia Birtwell and a 'Macmillan Cupcake Kit', will also be available for a suggested donation price of £2 each.
Last year's World biggest coffee morning raised over £20million.
Louise Fitzsimons, VM Manager at M&S Warrington Gemini, said: "The World's Biggest Coffee Morning provides a great excuse to gather with friends, family, or work colleagues, put your feet up and enjoy a cuppa and a slice of cake and all in aid of a truly worthwhile charity.
"The event on the 26th September will provide lots of fun activities for the whole family to enjoy and we hope all our customers can come along to show support for a cause that affects so many of us."
Alix Wooding, Head of Corporate Partnerships at Macmillan Cancer Support, said: "Since M&S first teamed up with Macmillan in 2010, the partnership has raised a staggering £2.8 million. The money raised last year helped to fund vital Macmillan posts in the community. This can be providing emotional support and practical advice for people living with cancer and their families too. We can't thank people enough for their generosity so far and hope they will get involved in the fun sure to happen at this year's coffee morning too!"