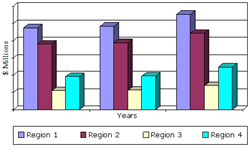 Wellesley, MA (PRWEB) September 19, 2014
BCC Research reveals in its new report, ANTIFUNGAL DRUGS: TECHNOLOGIES AND GLOBAL MARKETS, the global market for human antifungal therapeutics is expected to grow to nearly $13.9 billion by 2018, with a five-year compound annual growth rate (CAGR) of 3.2%. The over-the-counter (OTC) segment is growing at a steady 3.8% CAGR.
Given the current world economic situation, which is often presenting lower sales, coupled with the incidence of increasing mortality and the severity of fungal infection, there is a need for effective products that are cost-effective and innovative.
In non-U.S. and –European countries, the total sales of all human antifungal products reached $11.8 billion in 2013 and are anticipated to reach $13.8 billion in 2018. It is expected that the OTC/alternative portion of the global antifungal market will continue to grow. OTC sales reached $5.4 billion in 2013 and are forecast to grow to $6.5 billion in 2018.
"Increased use of antibiotics and immunosuppressive drugs such as corticosteroids are major factors contributing to higher frequency of fungal infections," says BCC Research pharmaceutical analyst Mary Anne Crandall. "By disrupting normal bacterial colonization and suppressing the immune system, antibiotics and immunosuppressive drugs create an environment within the body in which fungi can thrive."
ANTIFUNGAL DRUGS: TECHNOLOGIES AND GLOBAL MARKETS provides an overview of the global human antifungal market and assesses its growth potential over the five-year period from 2013 to 2018. It also covers approved human therapeutics, with a heavy focus on therapeutics in early development.
Editors and reporters who wish to speak with the analyst should contact Steven Cumming at steven.cumming(at)bccresearch(dot)com.
About BCC Research
BCC Research publishes market research reports that make organizations worldwide more profitable with intelligence that drives smart business decisions. These reports cover today's major industrial and technology sectors, including emerging markets. For more than 40 years we've helped customers identify new market opportunities with accurate and reliable data and insight, including market sizing, forecasting, industry overviews, and identification of significant trends and key competitors. We partner with analysts who are experts in specific areas of industry and technology, providing unbiased measurements and assessments of global markets. Our clients include the top companies in industries around the world as well as universities, business schools, start-ups, consulting firms and investment companies. BCC Research is a unit of Eli Research LLC. Visit our website at http://www.bccresearch.com. Contact us: (+1) 781-489-7301 (U.S. Eastern time), or email information(at)bccresearch(dot)com.
Data and analysis extracted from this press release must be accompanied by a statement identifying BCC Research LLC, 49-2 Walnut Park, Wellesley, MA 02481, Telephone: (+1) 781-489-7301; Email: editor(at)bccresearch(dot)com as the source and publisher. Thank you.