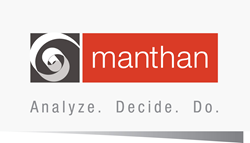 This highly relevant and personalized marketing approach has long been the elusive 'Holy Grail' for retail companies.- Atul Jalan, CEO Manthan
Phoenix, AZ (PRWEB) September 23, 2014
Manthan, the global leader in business intelligence (BI) and analytics solutions for retail and CPG industries, today announced a major new initiative to help retail marketers strengthen customer engagement and drive revenue growth through a cloud-based analytics solution that enables context-driven, personalized marketing. Called Customer360™, this powerful analytics solution from Manthan provides retailers a 360-degree, unified view of the customer across channels. Combined with support for predictive analytics, Customer360 provides marketers the insights required to deliver the right offer to the right customer in the right channel – at the right time.
By aggregating insights and contextual information from the full spectrum of customer touchpoints, behaviors, channels and preferences, Manthan's Customer360 empowers users to "crack the code" on truly personalized, one-to-one marketing. Customer360 is also remarkably easy to use and adopt for retailers who can start immediately to execute relevant, personalized marketing strategies that strengthen customer engagement, loyalty and results.
The leading technology analyst firm Gartner commented on the importance of retailers leveraging data analytics to drive personalized marketing strategies: "Retailers increasingly need to manage and monitor data gathered from an exploding number of customer touch-points to develop and deliver relevant and timely campaigns, personalized customer offers, and targeted assortments across channels … Retailers, however, are not yet highly capable of using this information. Gartner estimates show that only 10% of retailers are executing highly effective personalization efforts." (Source: Gartner, Hype Cycle for Retail Technologies, 2014.)
Earlier this year, a major retail organization with six million customers adopted Customer360 to provide a single view of its customers. Specifically, the retailer deployed Manthan's analytics solution to better understand customer purchasing behaviors and segmentation, and create relevant, affinity based promotions. Using Customer360's advanced analytics, the retailer was able to reduce churn by 20% and increase sales by 8%.
"With fewer opportunities for impulse purchases because of declining store traffic, and customers using technology to cherry pick promotions, retailers are wrestling with some of the most serious financial and growth challenges in years," said Atul Jalan, CEO of Manthan. "These and other recent industry trends are causing retailers to rethink how they engage customers to increase store visits, boost loyalty and ultimately strengthen sales. For more and more retailers, this has become a battle for survival."
Jalan continued: "We are advising retail organizations to fully embrace advanced analytics – like Customer360 – to derive valuable contextual information about consumer location, behaviors and preferences. The result is a massively improved ability for marketers to target and personalize customer communications. This highly relevant and personalized marketing approach has long been the elusive 'Holy Grail' for retail companies. But, it's finally a reality today with these powerful analytics and data management solutions."
Customer360 is a customer analytics solution that enables retail marketers to create and implement highly personalized marketing strategies and programs based on an omni-channel understanding of customer behaviors and preferences. The solution uses advanced predictive analytics to anticipate customer responses before engaging with them, dramatically increasing the odds for positive responses and superior engagement. Specifically, Customer360 helps retail marketers leverage customer relevance and engagement to:

Expand Share of Wallet – Customer360 uncovers opportunities to encourage cross-category, cross-brand purchases and accelerate new product adoption based on understanding customer lifestyle, life stages and behaviors. The solution allows marketers to bundle offers and introduce new categories to a select set of customers.
Reduce Churn – Given the vast amount of choices that customers now have, marketers need to take proactive steps to mitigate churn risk. Customer360 analyzes behaviors to predict which customers are likely to churn. The solution gives marketers the ability to identify the right mix of offers and channel strategies to engage customers to regain and sustain their loyalty.
Increase Basket Value – To counteract the increasingly prevalent "cherry picking" among customers, Customer360 identifies brand and product preferences and price sensitivity behavior. Based on these insights, marketers can deliver personalized volume discounts or bundle items to encourage more customer sales and loyalty.
Improve Campaign Effectiveness – Customer360 analyzes historical responses to past campaigns to predict future actions. Consequently, marketers are empowered to develop and execute more effective campaigns that achieve the goal of personalization – engaging the right customer with the right message and offer, at the right time.
Another differentiating feature of Customer360 is its unique level of usability, even for non-technical users, by leveraging wizard-based, intuitive and easy to use interfaces. Its powerful algorithms are all "under the hood," so data scientists are not needed to gain maximum benefit. This is part of Manthan's philosophy of "democratizing" information and the analytics process itself by putting the actionable insights easily and rapidly into the hands of the front-line marketing executives, who can put them to work to generate results.
----------------------
About Manthan
Manthan serves as the Chief Analytics Officer for global consumer industries. Manthan's comprehensive portfolio of analytics products and services enable retailers and their supplier partners to understand and activate the customer's path-to-purchase journey. Architected with deep industry expertise, Manthan's solutions combine advanced predictive analytics, actionable insights and unmatched customer knowledge to help retailers identify and drive incremental growth opportunities. Manthan has provided its business-building analytics solutions to over 120 leading retail and CPG organizations across 19 countries. Visit Manthan at http://www.manthansystems.com