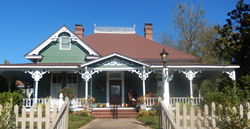 The perfect weekend get away
Hamilton, Georgia (PRWEB) September 21, 2014
Free admission to FDR State Park and all Georgia state parks occurs this Saturday, September 27.
Holly House of Hamilton, just four miles from HWY 190, the entrance to the park, is the perfect weekend get away and Autumn accommodation for relaxation and the jump-off point for all sorts of recreation in the Presidential Pathways region. Now that the temperatures have dropped into the comfortable range and the leaves are just starting to turn it is a lovely time of year to plan a get away before the rush of the holidays is upon us. Located just 90 minutes from Atlanta and 30 minutes from Columbus, Holly House of Hamilton is in the heart of beautiful Harris County, the location of Callaway Gardens.http://www.callawaygardens.com
In addition to the free admission at the nearby state parks Pine Mt is hosting their annual fair http://festivalnet.com/29554/Pine-Mountain-Georgia/Festivals/Ole-Chipley-Town-Fair Pine Mountain is just a 10 minute drive from Holly House.
For those who enjoy antiquing and seeking out quaint shops, in addition to Pine Mt,. the towns of Warm Springs and Woodbury and Cataula offer fun shopping opportunities such as Country Home Furnishings. http://chfofcataula.com
Columbus, just 20 miles away, offers Whitewater Express rafting, http://www.whitewaterexpress.com the National Infantry Museum http://www.nationalinfantrymuseum.org
and many other worthwhile weekend activities.
To the South, just a 90 minute drive on the Presidential Pathways trail is the town of Plains, home to Jimmy Carter and the Andersonville National Historic Site. http://www.nps.gov/ande/index.htm
Make your convenient reservation at this award winning Bed and Breakfast on the website or call Judy at 706 628-5634