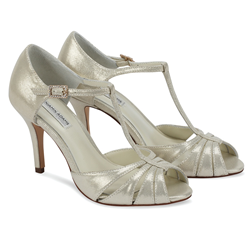 Some brides are already planning a vintage themed wedding from a specific era so it will make it easier for those brides to find the perfect pair of wedding shoes to fit their theme exactly!
(PRWEB UK) 30 September 2014
Thirties footwear design features are the main focus of the top three bridal shoe collections for the new season just launched by Crystal Bridal Accessories. Other bridal shoe ranges have also followed suit - such as Love Art Wear Art with the introduction of their new style 'Karis' - but the more popular brands still continue to lead the way in wedding footwear design!
The 1930s design industry was responsible for inventing the platform and wedge shoe shapes as well as introducing a more comfortable, practical style of footwear after the embellished excessiveness of the roaring twenties. The new Benjamin Adams style Blake embodies the Thirties' desire to experiment with fabric and texture on shoes with a new, glimmering, golden leather dance sandal with traditional T-Bar, comfortable mid-height heel and practical strap finish. Popular Art Deco motifs such as the sunburst are re-created in the latest Pink Paradox style 'Scent' and in the same range, styles 'Wonderful', 'Bunting' and 'Tutu' revive the 1930s developing ideas for design and pattern in footwear, the infamous block heel and rounded toe shoe shape. Similarly, Rainbow Club 2015 designs encapsulate other areas of footwear innovation from this influential era. New style 'Katy' captures the essence of the low heel retro shoe with a t-bar design and wider low heel and 'Florence' simply oozes retro simplicity with its mid-height block heel and soft, rounded toe shape.
"The new 2015 shoe collections will inspire brides to be more than ever because they simply add so much more choice to the styles already on offer," says Amy Karim, owner of Crystal Bridal Accessories. "There are so many different designs of wedding shoes influenced by so many different periods in history that brides will have no choice but to research which style will suit their wedding dress the most. Some brides are already planning a vintage themed wedding from a specific era so it will make it easier for those brides to find the perfect pair of wedding shoes to fit their theme exactly!"
"As 1930s footwear design was influenced heavily by the need for practical and comfortable shoes, brides now have the choice of more 1930s inspired platform and wedge styles if they still want to wear high heels on their wedding day but similarly, there are now also plenty of low heel bridal shoes with straps for brides who still want the practical option," adds Amy.
Brides can shop the new range of Thirties wedding shoes online at the Crystal Bridal Accessories website.
About Crystal Bridal
Crystal Bridal Accessories is an innovative business specialising in accessories for weddings, parties, balls, proms and special occasions. The online boutique offers the entire range of wedding shoes by Paradox London, Benjamin Adams, Rainbow Club, Harriet Wilde and Love Art Wear Art and quality wedding hair accessories by Halo and Co, Enchanted Atelier, Ivory and Co, and other brands made with genuine Austrian or Swarovski crystals. Crystal Bridal Accessories also stock a range of wedding gloves, bridal sashes and Lily Bella birdcage veils. Crystal Bridal Accessories is for the bride, bridesmaids, mother-of-the bride and for anyone who loves shoes, jewellery and handbags.
Crystal Bridal Accessories is highly commended by Wedding Ideas Awards 2012 for contribution to Bridal Accessories and Nominee for Perfect Wedding Awards 2013 and Wedding Ideas Awards 2013. The company was also a finalist in the Wedding Industry Awards 2013.
Brides can shop online or visit the showroom in Meadowhall, Sheffield serving brides across Yorkshire. For further information or to request high resolution product images, please email us.