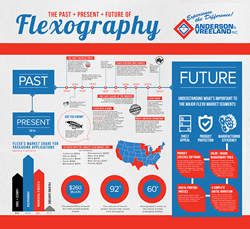 We developed this infographic so the novice and technical expert alike can learn about flexographic printing.
Bryan, Ohio (PRWEB) September 23, 2014
Anderson & Vreeland, Inc., leading manufacturer and distributor of flexographic plate processing equipment and materials, has introduced an infographic that summarizes the history of flexography, the present state of flexo and identifies what the future holds for flexographic printing.
The infographic is a great reference to help understand how flexographic printing has evolved, the key role flexo plays in packaging and label printing, and where the flexo industry is heading. A timeline presents historical events affecting flexographic printing, including the FDA classifying aniline dyes as unsuitable for food packaging in the 1940s; how "flexography" was named; the introduction of liquid photopolymer plates, water-wash flexo plates and more. The current state of flexography is defined with sales statistics by product category, geographic area and other relevant information that demonstrates the size and impact flexographic printing has on our economy.
The future of flexography is described by factors important to major flexo market segments, including shelf appeal, product protection and manufacturing efficiency. Product life cycle software, color and brand management tools, digital printing presses and complete digital workflows are graphically depicted to simplify understanding their relationship with the major flexo market segments.
"The flexo industry touches virtually every facet of our lives," noted Lee Zerfass, Digital Business Manager for Anderson & Vreeland, Inc. "We developed this infographic so the novice and technical expert alike can learn about flexographic printing. This reference is unique in that it is a simple representation of the flexo industry that also includes sophisticated concepts and technologies affecting the future of flexography," add Zerfass.
To review and download the infographic on the Past, Present and Future of Flexography visit http://andersonvreeland.com/past-present-future-flexography-infographic.
About Anderson & Vreeland, Inc.
Founded in 1961, Anderson & Vreeland has earned an international reputation as a leading provider of flexo prepress solutions for the graphic arts industry. The company offers a "systems" approach to conducting business by evaluating customer needs and offering the best solutions in the form of equipment, materials, training, and technology tailored for each customer. A&V supports these solutions with over 50 years of experience and a staff of technical sales representatives thoroughly knowledgeable about the fine points of flexo. The company's substantial flexo experience and technical support sets it apart from other prepress suppliers. This experience and support results in smoother and easier integration of technical advancements affecting flexo prepress. Further information is available on the web at http://www.AndersonVreeland.com.