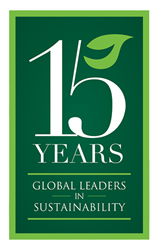 Chapel Hill, N.C. (PRWEB) September 22, 2014
The University of North Carolina Kenan-Flagler Business School is celebrating its 15th anniversary as a global leader in sustainable enterprise.
The School began its focus on the triple-bottom-line approach – measuring success in terms of financial profitability, ecological integrity and social equity – in 1999.
It was one of the first business schools to offer a comprehensive curriculum in sustainable enterprise that includes experiential learning, enrichment activities and career development. Today over 550 MBA students have graduated with a concentration in sustainable enterprise and are pursuing a wide range of careers.
Leading the School's work in education, research and outreach is the Center for Sustainable Enterprise (CSE), founded in 2001.
"Sustainable enterprise is a strategic strength for UNC Kenan-Flagler," said Al Segars, CSE faculty director, PNC Bank Distinguished Professor and chair of strategy and entrepreneurship.
Recognition of the School's educational leadership is this area includes top rankings. Every "Beyond Grey Pinstripes" ranking by The Aspen Institute rated UNC Kenan-Flagler among the very best in the world. The Financial Times consistently ranks the MBA Program among the top 10 in corporate social responsibility and ethics, and Bloomberg Businessweek ranked the MBA Program No. 7 globally for sustainability.
"The commitment of UNC Kenan-Flagler to embedding business stewardship for the planet in the classroom experience is evident in their high performance on the Beyond Grey Pinstripes rankings of MBA programs," said Judith Samuelson, executive director of the Business and Society Program at The Aspen Institute. "Congratulations to UNC Kenan-Flagler on 15 years of demonstrating a commitment to excellence in business education in this important arena."
"CSE initiatives include curricular innovation with global reach," said Carol Hee, CSE director and a strategy and entrepreneurship professor.
Those initiatives include the award-winning Sustainability Leadership Capstone course, a unique model of experiential learning; the Investing for Impact Competition, in which students apply VC skills to assess socially and environmentally sustainable firms; and the MBA and undergraduate Net Impact clubs, which have received the gold chapter standing for the last three years.
#
About the University of North Carolina Kenan-Flagler Business School
Consistently ranked one of the world's best business schools, UNC Kenan-Flagler is known for its collaborative culture that stems from its core values: excellence, leadership, integrity, community and teamwork. Professors excel at both teaching and research, and demonstrate unparalleled dedication to students. Graduates are effective, principled leaders who have the technical and managerial skills to deliver results in the global business environment. UNC Kenan-Flagler offers a rich portfolio of programs and extraordinary, real-life learning experiences: Undergraduate Business (BSBA), full-time MBA, Executive MBA Programs (Evening, Weekend and global OneMBA®), online MBA@UNC, UNC-Tsinghua Dual-Degree EMBA, Master of Accounting, PhD, Executive Development, and UNC Business Essentials programs. It is home to the Frank Hawkins Kenan Institute of Private Enterprise.