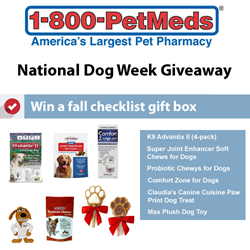 Pompano Beach, Fla. (PRWEB) September 22, 2014
1-800-PetMeds®, America's Largest Pet Pharmacy®, is celebrating National Dog Week by giving away one pet supplies care package each day to a participant. The giveaway, which kicked off last week, will run until September 26, 2014.
The gift boxes are full of items tailored for fall, including K9 Advantix II, to repel fleas through the end of flea season; 1-800-PetMeds' Super Joint Enhancer Soft Chews, to help maintain healthy joints and activity levels, even in cooler weather; and Comfort Zone for dogs, to combat anxiety brought on by Halloween and the start of the holiday season. Other items include 1-800-PetMeds' Probiotic Chewys, treats and a Max mascot plush dog toy. Each prize package contains more than $150 in products.
Participants can enter in one of two ways. They can fill out the contest application to submit a photo of their dog, or they can post a picture of their dog to Twitter or Instagram with the hashtag #PetMedsDogWeek to be entered. Participants can enter once every 24 hours, and a winner will be randomly selected each day and posted on the 1-800-PetMeds Instagram account.
National Dog Week was founded in 1928 by Captain William Judy, a former publisher of Dog World Magazine. It was created to encourage responsible pet ownership and to educate dog owners about their responsibilities to their pets and communities.
"Even though we approach every week as if it is National Dog Week, we wanted to recognize this event and draw attention to the importance of responsible pet ownership," said Alex Irvin, online programs director at 1-800-PetMeds. "We have always advocated responsible pet ownership and are proud to offer resources through our blog posts and educational articles to help pet parents keep their pets healthy and happy."
This year, National Dog Week takes place from September 21 to September 27. The 1-800-PetMeds giveaway will conclude September 26 at 11:59 p.m. EDT. The giveaway is open to U.S. citizens and permanent residents 18 years of age or older.
About 1-800-PetMeds®
Founded in 1996, 1-800-PetMeds is America's Largest Pet Pharmacy and Vet-VIPPS accredited, delivering prescription and non-prescription medications, and pet supplies for less, direct to the consumer through its 1-800-PetMeds toll free number and on the Internet through its website.