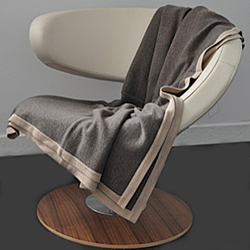 Beautifully Made. Simply Luxurious.
Boston, MA (PRWEB) September 29, 2014
Lufina Wovens is a curator of alpaca and lambswool blankets, throws and pillows from countries around the globe. The company is the creation of husband and wife team, Luanne and Mike Perrera, who share a passion for all things beautifully made and simply luxurious. As a result, Lufina Wovens has gathered a collection of some of the finest home textiles from around the world to share with its customers. These heirloom quality blankets, pillows and throws will warm up any space in the owner's home for years to come. Lufina Wovens products create treasured memories and are handed down in families as keepsakes.
Lufina Wovens' blankets have been shown in both InStyle and Elle Decor magazines and featured in the Grammy Awards "Music Cares" charity auction in 2014. The company is offering this item to entrants in celebration of its first anniversary through a blanket giveaway that is an example of the fine hand craftsmanship that exists in countries around the globe today. You may sign up at our contest page.