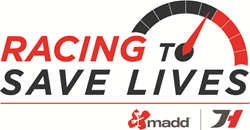 Austin, Texas (PRWEB) September 21, 2014
Professional race car driver Jan Heylen is teaming up with Mothers Against Drunk Driving® (MADD) for a new national "Racing to Save Lives" partnership to raise awareness about MADD's mission to stop drunk driving, support the victims of this violent crime and prevent underage drinking. Heylen and MADD are announcing the new partnership in connection with this weekend's Circuit of the Americas Lone Star Le Mans race in Austin, Texas.
"I'm proud to announce that I will be joining forces with MADD in an effort to put an end to drunk driving." says Heylen. "When your profession is driving a race car up to the speeds we're topping out at, it's dangerous, of course, but that's minor compared to the risk of drinking and driving. I've always been big on helping people and trying to be a role model, so I hope that by teaming with the people at MADD, we will be able to make a difference and eventually eliminate drunk driving."
"MADD is thrilled with the opportunity to work with Jan to increase awareness for MADD's lifesaving mission," said MADD National President Jan Withers. "In honor of the victims of drunk driving crashes here in Austin and across the country, we want to remind adults to always plan ahead for a non-drinking designated driver. After all, drunk driving is 100 percent preventable."
In addition to this weekend's race activities, MADD Central Texas will recognize 35 officers at its annual Law Enforcement Recognition Luncheon. Heylen will attend the event and help honor law enforcement officers from throughout the region for their dedicated service to keep drunk drivers off the roads. Recipients include Austin Police Chief Art Acevedo, who will receive the Jaime Padron Award named after an Austin PD officer killed in the line of duty on April 6, 2012.
For more information about Jan Heylen Racing, visit http://www.janheylen.com. To learn more about MADD's local and national efforts, visit http://www.madd.org.
About Jan Heylen Racing
Jan Heylen is originally from Geel, Belgium and now lives in the Tampa, Florida area. Heylen began his motorsports career when his father purchased a go-kart for Jan to race. As Jan became older, his talent became obvious, and by the time he was 23, he found himself driving for the Mercedes Junior Team. In 2006, Jan came to America and drove Indy Cars for two seasons. Since then, Jan has been competing in sports cars and is currently competing in the United Sports Car Series, driving the #58 Porsche 911 GT America for Snow/Wright/Dempsey Racing.
About Mothers Against Drunk Driving
Founded by a mother whose daughter was killed by a drunk driver, Mothers Against Drunk Driving® (MADD) is the nation's largest nonprofit working to protect families from drunk driving and underage drinking. With the help of those who want a safer future, MADD's Campaign to Eliminate Drunk Driving® will end this danger on America's roads. PowerTalk 21® is the national day for parents to talk with their kids about alcohol, using the proven strategies of Power of Parents® to reduce the risk of underage drinking. And as one of the largest victim services organizations in the U.S., MADD also supports drunk and drugged driving victims and survivors at no charge, serving one person every 8.6 minutes through local MADD victim advocates and at 1-877-MADD-HELP. Learn more at http://www.madd.org or by calling 1-877-ASK-MADD.
# # #