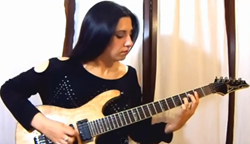 (PRWEB) September 19, 2014
A "lick" is a sequence of notes from a scale that are used in a section of a solo, by using an array of techniques such as bends, slides, and hammer-on/pull-offs.
In this lead guitar lesson, now available on YouTube.com, Alejandra Mesliuk teaches how to play the guitar solo from The Sultans of Swing. This lick uses the techniques of slides, hammer-on's, pull-off's and bending and is performed using the hybrid picking technique and is based out of the minor pentatonic scale.
The Pentatonic Scale is a musical scale with five notes per octave. They can be found all over the world and are the main scale used in the Blues genre.
Hybrid Picking is a technique where the guitarist uses a flat pick with the thumb and first finger and finger picks with the remaining fingers. Double Stops is the technique of playing two strings at the same time, usually done using the hybrid picking technique.
Mark Knopfler is a native of Scotland and most known for his work in Dire Straits that he formed with his brother in 1977. Knopfler ranked 27th on Rolling Stones list of "Top 100 Guitarists of all time" and has sold over 120 million records to date. In addition to his work in Dire Straits Knopfler has recorded solo albums and collaborated with artists such as Sting, Van Morrison, James Taylor, and Tina Turner to name a few and has composed for movie scores such as The Princess Bride.
Alejandra Mesliuk
Alejandra Mesliuk is from Buenos Aires Argentina. She studied jazz guitar harmony and under the method in Temperley Berklee School of Music by Ariel Ferreyrola. She has been an area teacher and clinician for the last 10 years in electric guitar, classical, and musical language. She is currently working on a solo album.
About GuitarControl.com
GuitarControl.com is the leader in modern guitar instruction. It's packed with recourses including articles, video lessons, and the best videos in the business for the beginner to the advanced guitar student taught by the best instructors out there. Weather you are into the blues, rock, jazz, metal, folk, or anything in between, they have you covered.