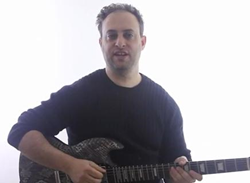 (PRWEB) September 19, 2014
"Bar chords are when you use usually your first finger to go across all the strings", says Johnson. Claude starts off by demonstrating by an Am (A minor) Bar Chord as follows; first finger barred across all of the strings at the 5th fret, 7th fret of the 5th string with 3rd finger and 7th fret of the 4th string with 4th finger. "By simply removing your fourth finger you get Am7", says Johnson. Claude demonstrates what he calls the "bowling ball grip", which is bending the wrist of the fretting hand inward to ensure that you have enough leverage to press down hard enough when barring your first finger. Claude continues by demonstrating that since bar chords are movable shapes you can simply slide the shape for Am up one whole step and it becomes Bm and that you can move it to any fret that you choose too. Claude demonstrates an exercise of moving between two chords that are rooted on the same fret, but on one on the 5th string and the other on the 6th string. Guitar TAB's are available for this beginner acoustic guitar lesson at GuitarControl.com.
Bar Chords are where one or more fingers are used to press down multiple strings across the guitar fingerboard enabling the guitarist to play a chord not restricted by the tones of the guitar's open strings. Bar chords are often referred to as moveable chords, as the whole hand may easily be moved up and down the neck in one movement.
Claude Johnson
Claude Johnson, a native of Philadelphia PA, began playing guitar in 1990 after being inspired by players like Jimi Hendrix, Eric Clapton, and Stevie Ray Vaughn. He is the creator of GuitarControl.com and has helped 1000's of people to learn to play the guitar with his critically acclaimed instructional DVD courses, all available at GuitarControl.com
About GuitarControl.com
GuitarControl.com is the leader in modern guitar instruction. It's packed with recourses including articles, video lessons, and the best videos in the business for the beginner to the advanced guitar student taught by the best instructors out there. Weather you are into the blues, rock, jazz, metal, folk, or anything in between, they have you covered.