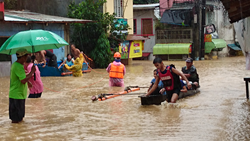 It is so hard to see our brothers and sisters in the evacuation centers.
Kansas City, KS (PRWEB) September 19, 2014
Unbound, an international humanitarian organization based in Kansas City, is responding to families in regions of the Philippines being affected by both a tropical storm and an active volcano.
More than 1,060 families evacuated to the nearest public schools while others moved to higher ground after tropical storm Fung-Wong brought heavy rain and gusty winds to portions of the northern Philippines.
The storm slammed Metro-Manila Friday causing heavy flooding. Some homes filled with more than 10 feet of water.
"It is so hard to see our brothers and sisters in the evacuation centers. Even if they are inside the covered court, they still get wet because of the wind carrying rain that enters the court," said Tristan John Cabrera, Unbound's communications liaison in the Philippines. "And aside from the crowded area, there is no electricity at the centers."
Unbound is quickly providing assistance to families impacted by these natural disasters.
For those wishing to help, donations can be made through support to Unbound's Disaster Response.
While thousands are relocating temporarily in Metro Manila, a fiery Mayan Volcano is threatening to erupt in Legazpi, Philippines.
Families of 41 sponsored children and elders who live in the town of Camalig have evacuated to a local elementary school.
Unbound works with 1,686 families in Camalig, and more will leave their homes as the military carries out evacuations of municipalities surrounding the volcano, staff members at Unbound's Legazpi office reported.
"Mayon is once again showing some abnormalities," said Gari Olavario, Unbound's coordinator in Legazpi.
The Unbound program in Legazpi serves about 10,000 families. About 500 of them live near the 6.5-kilometer danger zone at the foot of the volcano.
In recent weeks Mayon has been letting off steam, showing its fiery streaks and grumbling.
As the Unbound staff in the Philippines coordinates with local officials to respond to both the tropical storm and volcano, Unbound staff at the world headquarters in Kansas City, are keeping all the families in their thoughts and prayers.
Unbound is the largest nonprofit in Kansas with more than $120 million in annual revenue. We work directly with children, families and the elderly in 21 developing countries as they confront the challenges of poverty and work toward a better life.
Unbound distributes direct aid as quickly and efficiently as possible to people who need it. More than 93 percent of all the money Unbound spends goes to program support.
#