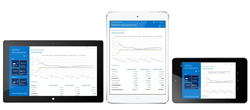 TVision's selection for the Dynamics NAV 2015 Beta testing programme shows the value Microsoft places in the expertise of its partners during the development process. We are very pleased to be recognised in this way
(PRWEB UK) 22 September 2014
Woking-based Microsoft Gold Partner TVision Technology has been selected by Microsoft as a beta testing partner for the highly anticipated version 8 of Microsoft's leading ERP solution, Dynamics NAV.
The new version of the software, nicknamed "Crete" was officially announced at Microsoft's World Partner Conference in July this year. Erik Tiden, Dynamics NAV General Manager outlined the key areas of improvement for NAV 2015. Under the title "More Mobile and More Cloud" the new version offers unrivalled mobile device support.
Richard Thompson, MD of TVision Technology comments "TVision's selection for the Dynamics NAV 2015 beta testing programme shows the value Microsoft places in the expertise of its partners during the development process. We are very pleased to be recognised in this way and excited to get our hands on the software."
Sneak peeks of NAV 2015 show enhanced functionality in the finance area; use of Word for document layouts; simple, effective improvements in the user interface with colour coded alerts and icons and of course, the tablet client, which is creating a lot of interest. "NAV 2013 gave us a great web client that runs on any device that supports a browser," Richard Thompson continues, "Dynamics NAV 2015 extends this with a true tablet client."
Hailed as "built for touch" the tablet client supports the strategy to move into providing tools for NAV apps. Other key improvements are stronger and easier integration with Microsoft products such as Office 365 and Power BI, and an enhanced user "dashboard" as well as tools to further simplify the upgrade experience.
The official release date for NAV 2015 is expected to be the end of this year.
Surrey based TVision Technology is a Microsoft Gold ERP Partner. Established in 1999, TVision has clients throughout the UK as well as managing multiple projects at clients' overseas locations. TVision has always focused exclusively on Dynamics NAV and has developed two Dynamics NAV based market solutions: The Wine System for the wine and drinks distribution industry and Agency Time for the recruitment industry.