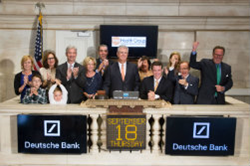 Red Bank, NJ (PRWEB) September 19, 2014
Visiting Nurse Association (VNA) Health Group, New Jersey's largest not-for-profit provider of home health care, hospice and palliative care and community-based care, was honored to join Deutsche Bank to ring the Opening Bell yesterday at the New York Stock Exchange.
Founded in 1912 by a New Jersey philanthropist and social entrepreneur to care for immigrant families suffering from tuberculosis and other diseases, VNA Health Group has always worked to meet the urgent healthcare needs of the communities it serves and to effectively respond to changing healthcare environments, shifts in population demographics and fluctuating revenue streams. Currently it's developing "integrated institutes" led by industry experts to research and drive advances in health technology, services for children and families, integrated care models and to care for a Medicare population that is expected to number 79 million by 2030.
"We are grateful to Bob Dibble and Deutsche Bank to have this opportunity to engage with the business community on the value and benefits of homecare in comparison to institution-based care. Skilled home healthcare addresses the complex clinical needs of all Americans and the rising costs associated with healthcare delivery that is traditionally provided at institutions," said Steven Landers, MD, MPH, President and CEO at VNA Health Group. "Today we are here to represent more than 1,200 staff nurses, therapists, social workers, home health aides and nutritionists who on any given day, care for more than 5,000 individuals across New Jersey. It is through their hard work and dedication that we are able to have such great opportunities like this to showcase our work. These moments help us tell our story to powerful audiences that can make a difference for our patients and programs. It is a true honor to represent everyone at VNA Health Group!"
Helping Dr. Landers ring the Opening Bell were Robert Dibble, Head of Human Resources, Americas, for Deutsche Bank and Board Trustee of VNA Health Group, Scott Carmilani, President, CEO and Chairman of the Board at Allied World and Board Trustee at VNA Health Group, Ellen Gusick, Chief Nursing Officer at VNA Health Group, Bridget Murphy, Chief Philanthropy Officer at VNA Health Group and additional VNA Health Group Board of Trustees, friends and family.
"The Visiting Nurse Association provides compassionate care to tens of thousands in need across the state each year," said Robert Dibble. "They truly make a difference to our patients and the community and I am so proud to be a member of the Board of Trustees. The Opening Bell and benefit dinner at the New York Stock Exchange was a wonderful way to acknowledge its mission, celebrate its success, and thank the employees and many volunteers for their passion and commitment."
VNA Health Group was one of the first agencies in New Jersey to operate hospice and telehealth services and is now the state's largest not-for-profit provider of homecare and hospice services operating in 11 counties. VNA Health Group is one of the only physician-led visiting nurse associations in the country, and employs more than 1,400, the majority of whom are staff nurses, physical therapists, social workers, nutritionists and home health aides who care for more than 120,000 individuals in their homes and communities each year. Regardless of individual's ability to pay, it serves those who are most vulnerable, through illness or social circumstance, in order that they may have a healthier, more hopeful, and dignified life.
Dibble and Carmilani, were honored for their extraordinary leadership and support as VNA Health Group Board Trustees at a VNA Health Group Benefit Dinner held at the New York Stock Exchange on Thursday evening. Nicole Petallides, the correspondent on the floor of the New York Stock Exchange for FOX Business Network, was the evening's Mistress of Ceremonies.
"Robert and Scott and the rest of our board of trustees are helping VNA Health Group lead the state and nation as a model organization that is embracing technology and finding innovative solutions to improve the quality of life and health care values in the communities we serve," said Dr. Landers.
"As is well known, our society is aging – thousands of 'Baby Boomers' are turning 65 every day, which poses immense challenges to the Medicare program and our nation as a whole," said Dr. Landers. "We must explore creative ways that will enable us to keep the promise made to our aging citizens without putting our nation's fiscal future in jeopardy.
"Home healthcare is essential to the sustainability of the Medicare program and to the millions of taxpayers who provided critical financing to it. As has been well documented, home healthcare services are significantly less costly to deliver than those in institutional settings. As a result, it's not just that there's no place like home – there's also no place less expensive than home."