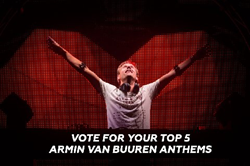 New York, NY (PRWEB) September 22, 2014
World's biggest DJ/producer, Armin van Buuren, will soon be releasing 'Armin Anthems' (Armada Music), a new release containing the top Armin van Buuren tracks from the last 20 years as selected by fans. As thanks to all those who have supported him over the years, Armin wanted to give back by letting his audience determine the tracklist of his next release. Visitors can now vote for up to five of their favorite Armin songs of all time and the poll results will be used to create the tracklist for Armin van Buuren's first ever fan-selected album. The album is due for release in late-2014.
Voting is now open at vote.arminvanbuuren.com from today through October 2nd at 4:00pm Eastern Time. The album will comprise of 20 songs (commemorating 20 years) into one CD in addition to being made available through all major digital download and streaming services. Once the votes are tallied, the results will be announced during Armin's A State of Trance radio broadcast on October 9th, 2014. A State of Trance is the weekly radio show hosted and programmed by Armin van Buuren, drawing 25 million listeners from around the globe each week.
Armin van Buuren's catalog is long and extensive. Knockout tracks include: "This Is What It Feels Like" featuring Trevor Guthrie (certified gold in the U.S. and the 2014 GRAMMY® nominee for "Best Dance Recording"); Armin's first hit in the UK, "Blue Fear"; "In And Out Of Love" (which was one of YouTube's most-viewed videos, with over 147 million views and counting); and many more music industry-changing anthems.
Following the recent success of Armin's chart-topping compilation, 'A State of Trance at Ushuaïa Ibiza, 2014' (Armada Music), including the single, "Hystereo," the new album marks a unique experience for Armin's audience, especially for those who have supported Armin since the beginning of his esteemed career.
Listen to Armin van Buuren on Spotify: http://spoti.fi/ifi6bs
For more information on Armin van Buuren in the U.S./North America, contact EMILY TAN Media Relations, +1(917) 318-3758, EmilyEmilyTan(at)aol(dot)com and visit http://www.ARMINvanbuuren.com. Follow EMILY TAN Media Relations on Twitter @EmilyEmilyTan.
# # #